news
---
To coincide with my exhibition The Passengers currently on at Tolarno Galleries I have made a series of wearable multiples on aluminium. These are 1:1 scale of the original train tickets I've used as reference for the exhibition. A very limited edition.

---
The Passengers
Tolarno Galleries
March 23 - April 27 2019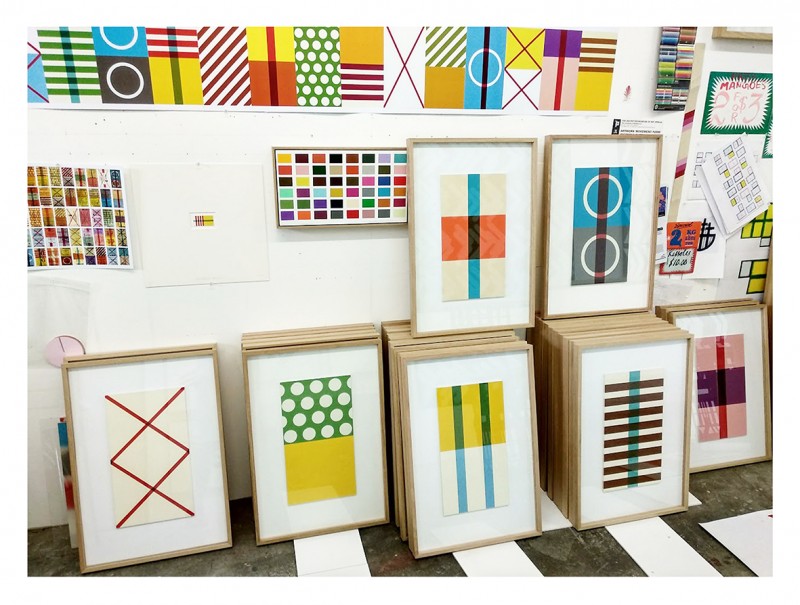 ---
Clement Meadmore and the Modernist Wave - State Library of Victoria February 7th, 2019
I recently gave a short talk titled 'No Locomotives' at the State Library of Victoria for a panel discussion moderated by Karen McCartney for 'Clement Meadmore and the Modernist Wave' - along with Dean Keep and Geoff Hatty. Link Below. I focus on Meadmore's sculptural practice between 1963 and 1966 after his permanent move from Sydney to NYC. During this period Meadmore developed the curve or twist in his work. Listen to my talk to understand why I believe this shift happened. My talk begins at around the 30.00 min mark. Unfortunately no images due to copyright issues. However I've described the works in detail. The final image compares Meadmore and Richard Serra's works - Meadmores early Criss Cross series from 1965 alongside Richard Serra's Equal series from 2015...it's an interesting intersection between both artists practices.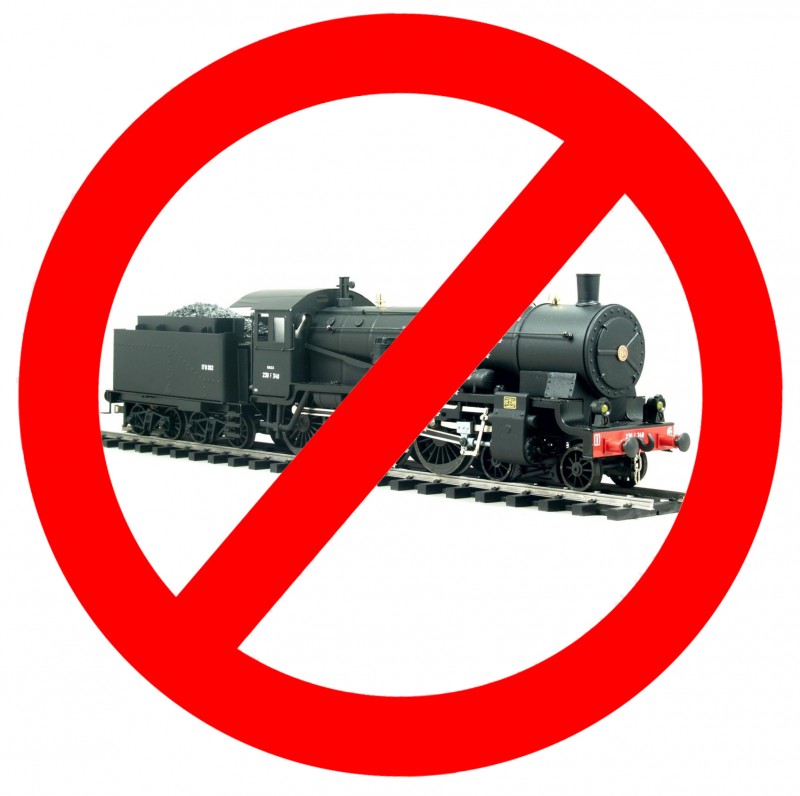 The Modernist Wave - State Library Victoria
Feb 7th 6pm - 7.30pm, 2019
I'll be 'In Conversation' - moderated by design author Karen McCartney. Along with Dean Keep and Jeromie Maver, curators of 'Clement Meadmore - the art of mid-century design' (currently showing at The Potter Museum) and design dealer Geoff Hatty. Apart from the conversation I will also be speaking about Clement Meadmore's sculptural practice. Focusing primarily on the pivotal years between 1963 and 1966 after his arrival from Sydney to New York City. Unfortunately this event was booked out very quickly, but there is a waitlist if anyone is interested.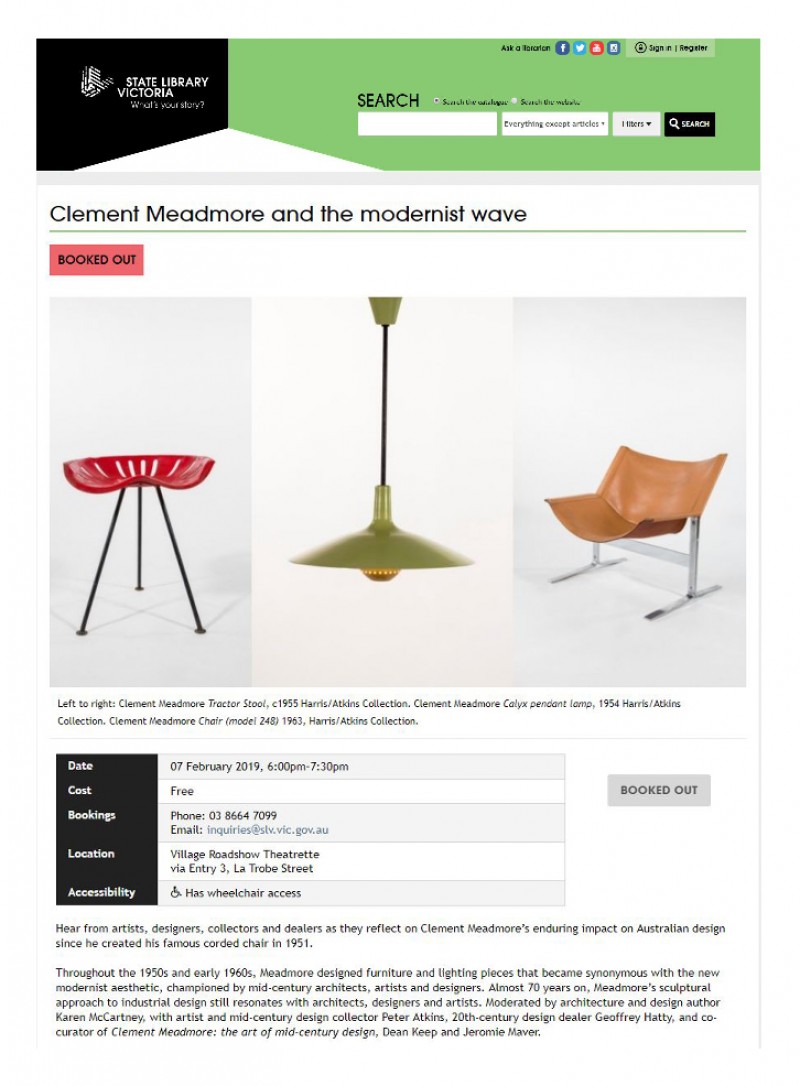 ---
Dana and I are the major lenders to this wonderful survey exhibition of Clement Meadmore's industrial design from the 1950s, carefully curated by Dean Keep and Jeromie Maver. Many rare examples from our collection, built up over the past twenty years will be exhibited, most for the first time, including tables, chairs, lighting, sculpture and ephemera. An opportunity to see these and other extraordinary objects from Clement Meadmore's industrial design and sculptural output before he left for New York City in 1963. These objects represent the birth of Modernist design in Australia and in many ways could be seen to forecast the future direction of Meadmore's mature sculptural practice.
'Clement Meadmore: the art of mid-century design'
Potter Museum of Art
Tuesday 20 Nov 2018 to Sunday 3 Mar 2019
Clement Meadmore: The art of mid-century design is the first major survey to focus on the industrial design practice of one of Australia's most internationally successful artists. Curated by Dean Keep and Jeromie Maver, the exhibition charts the evolution of Clement Meadmore's design aesthetic in the 1950s and early 60s, before he shifted his focus to sculpture, and highlights the role Meadmore played alongside Australia's most innovative and progressive designers of the mid-century period.
The exhibition sheds light on a time when mid-century tastemakers sought to shape post-war Melbourne into a thriving and cosmopolitan city that, through the intersection of art, design and architecture, embodied the ideals and principles of the modernist aesthetic. Meadmore's first furniture design, a steel rod and corded dining chair created in 1951, became an instant hit, catching the attention of the highly influential modernist architect Robin Boyd and receiving the Good Design Award from the Society of Interior Designers of Australia (SIDA). The chair would later form part of the iconic thirteen-piece series known as the Meadmore Originals.
For just over a decade, Meadmore produced a small range of innovative furniture and lighting designs, popular with architects, artists and designers of the period. The ground-breaking modern homes designed by architects such as Robin Boyd, Neil Clerehan and Peter McIntyre were not complete without Meadmore furniture or lighting, often placed alongside pieces by Frances Burke, Grant Featherston, Fred Lowen and Douglas Snelling. Meadmore's furniture and designs were regularly featured in journals such as Australian Home Beautiful and Architecture and Arts, and sold at Marion Hall Best's showrooms in Sydney and Frances Burke's New Design store in Melbourne.
In 1955, prior to the 1956 Melbourne Olympics, Meadmore was commissioned by Ion Nicolades to design the interiors of the Legend Espresso and Milk Bar and the Teahouse, both in Melbourne. Drawing upon international modernism and a new-found passion for Italian culture, the Legend Espresso and Milk Bar is arguably one of Meadmore's greatest achievements and became a touchstone for many young creatives in 1950s Melbourne.
In the latter part of the 1950s, Meadmore's attention increasingly shifted to his sculptural practice and the gallery scene, whilst maintaining his industrial design practice. He would also play a pivotal role in establishing and managing Max Hutchinson's Gallery A. Known as the Little Bauhaus, the gallery championed non-figurative art and industrial design, with Meadmore responsible for designing the gallery's line of contract furniture.
The result of 10 years research, Clement Meadmore: The art of mid-century designpresents many pieces for the first time, alongside newly discovered Meadmore designs. The exhibition also presents a rare opportunity to see original furniture and lighting designed by Meadmore for the modernist interiors of the Legend Espresso and Milk Bar and the Teahouse. The iconic designs in this exhibition - including chairs, tables, light fixtures, and graphics - are enlivened by archival images and documents, alongside interviews with the artist's family and colleagues connected to the Melbourne art, jazz and design scenes of the 1950s. Clement Meadmore: The art of mid-century design showcases Meadmore's rich design practice and shines a light on the important cultural shifts that shaped mid-century Melbourne.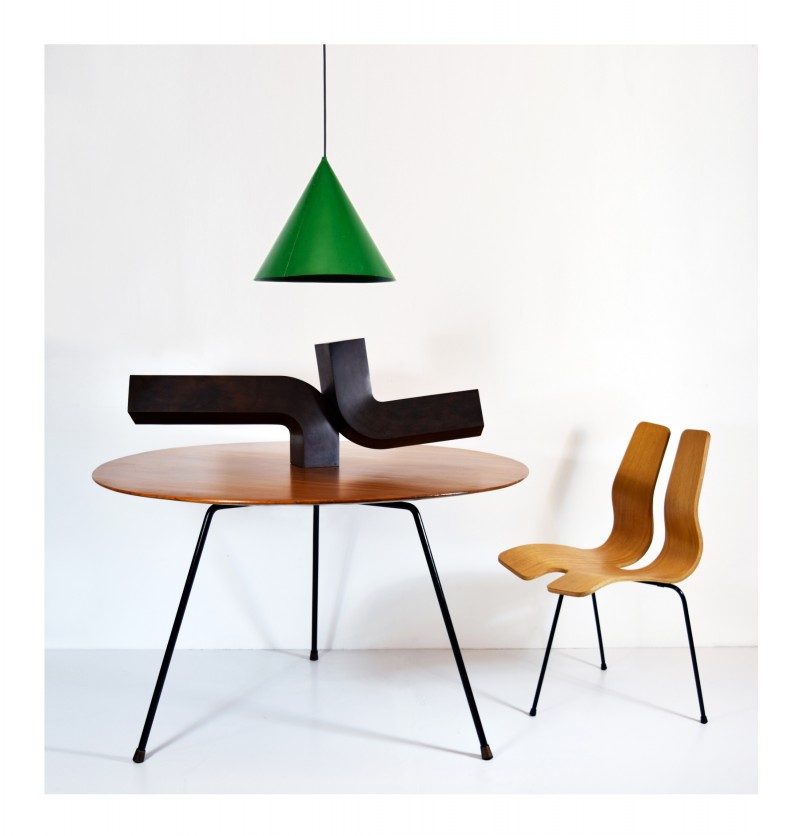 ---
RAILway 2018
A 44 meter long billboard installed along Swanston Street at the Metro Tunnel site in Melbourne as part of Metro Tunnel Creative Program.
Find out more about this project by clicking on image below.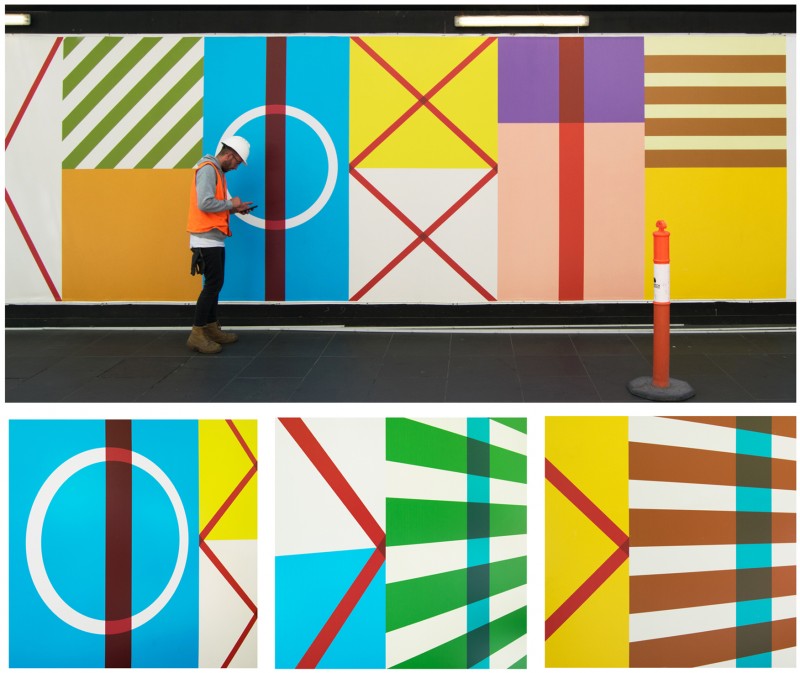 ---
The Bathroom
Suite 124 - Spring1883
GAGPROJECTS, Adelaide and Berlin
Presented by GAGPROJECTS as part of Spring1883 is an installation of three projects titled 'The Bathroom'. The installation includes 'Medicine' 2012-2016, 'Skin Care' 2017-18 and a new project created especially for Spring1883 titled 'Sanitized for your Protection' 2018. 'The Bathroom' follows on from my installation with Tolarno Galleries at Spring1883 in 2016 titled 'Love Letters' where the use of the existing space and furniture were critical to the contextualisation of the project. The works were placed on and in the two antique writing desks in the Prince Alfred Suite.
This year my focus is directed towards the bathroom of suite 124. Traditionally, the bathrooms at Spring1883 have proven to be the most difficult spaces to exhibit in. They are small, highly reflective, brightly lit with cold, hard surfaces; granite, steel, tiles, glass and porcelain. The small spaces are made more difficult with the addition of cabinets, a toilet, shower and bath. Rather than work against the inherent difficulties of the bathroom, these projects work with the existing conditions, entering into the narrative and communal experience of the space by adding a series of objects that relate to what is commonly found and experienced within most bathrooms.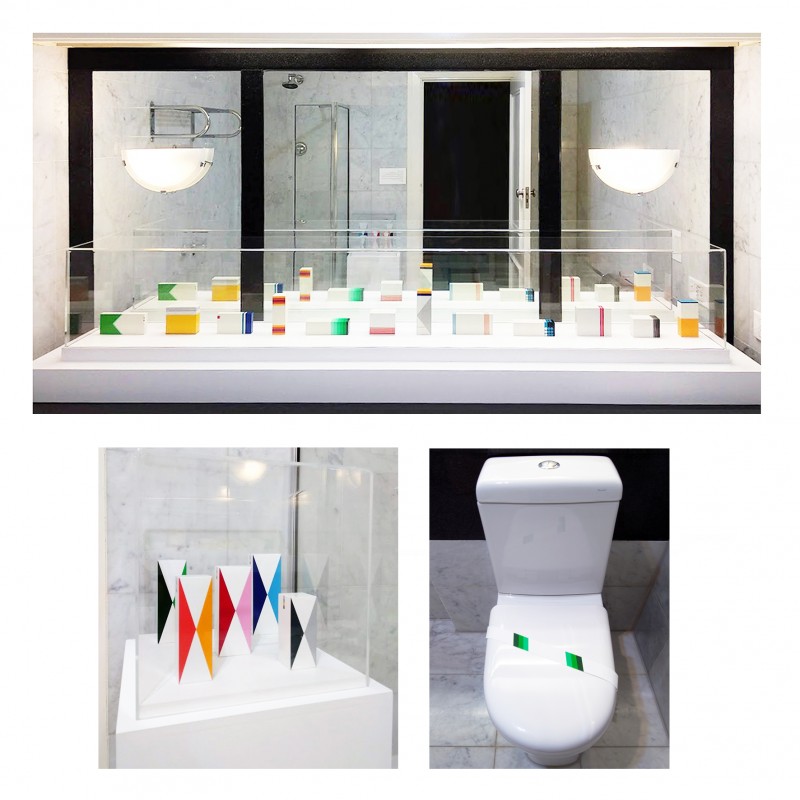 ---
Couplings
Dominik Mersch Gallery
Curated by Helen Hyatt-Johnston and Brad Buckley
11th April - 12th May 2018
'Couplings' is a show about the private 'pillow talk' that goes on between artist couples, whether conscious or unconscious. By hanging or placing the works next to each other, the curators Helen Hyatt-Johnston and Brad Buckley explore how these conversations affect the work, even when it may not be obvious in their visual or conceptual approach.

By looking at how this intimate exchange appears across generations, styles and mediums, what becomes apparent is that a surprising number of artists in Australia also have artist partners. Is it a case of like goes with like, or do opposites attract?
Dominik Mersch Gallery will show the work of seventeen artist couples, including: Vanessa Berry and Simon Yates, Vicky Browne and Locust Jones, Josie Cavallaro and Somchai Chareon, Tracey Clement and Peter Burgess, Lottie Consalvo and James Drinkwater, Suzy Faiz and Matthys Gerber, Adrienne Gaha and Tim Maguire, Helga Groves and Matthew Johnson, Dana Harris and Peter Atkins, Francesca Heinz and Sach Catts, Lisa Jones and Richard Glover, Hilarie Mais and William Wright, Sarah Newall and Jane Polkinghorne, Anna Louise Richardson and Abdul-Rahman Abdullah, Nike Savvas and Stephen Little, Tiffany Shafran and Kyle Jenkins, and Rachel Sherwood and Teo Treloar.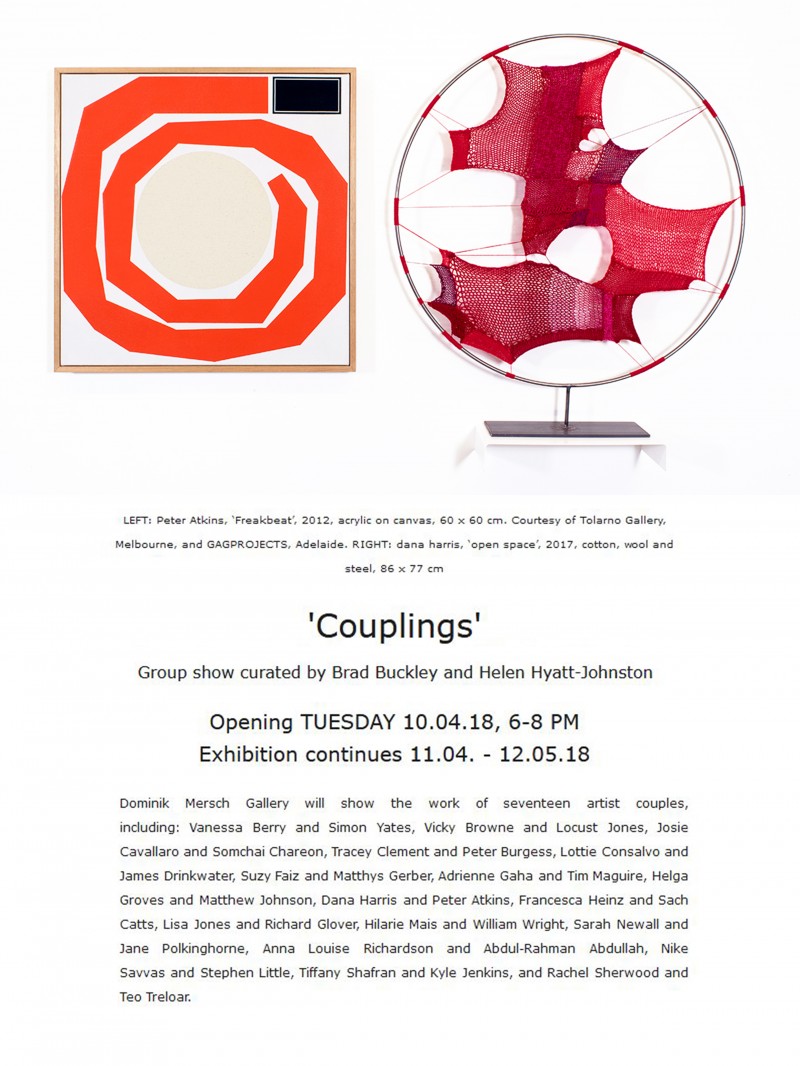 ---
Peter Atkins - 5 Projects
Ten Cubed
Opening Tuesday 10th April 6-8pm
3rd April - 16th June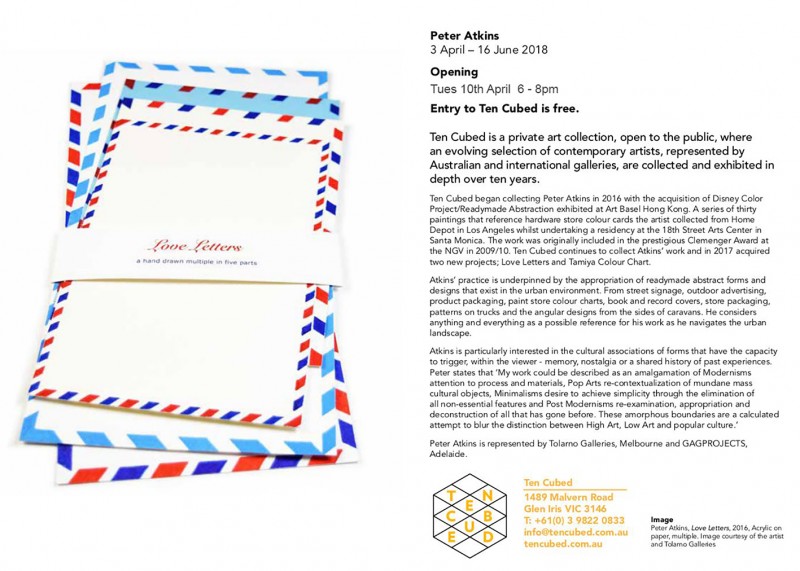 ---
Wish you were here!
4 - 17 November, 2017
Adelaide Central Gallery
Wish you were here! is a fundraising exhibition and opportunity to acquire original works of art by over 100 Australian and international artists. The identity of each artist will remain anonymous until after the work is purchased. As a not-for-profit organisation, all proceeds from this exhibition directly support the students and programs of the School.
Fairy Wren, Parrot and Galah
150mm x 105mm each
spray paint on paper 2017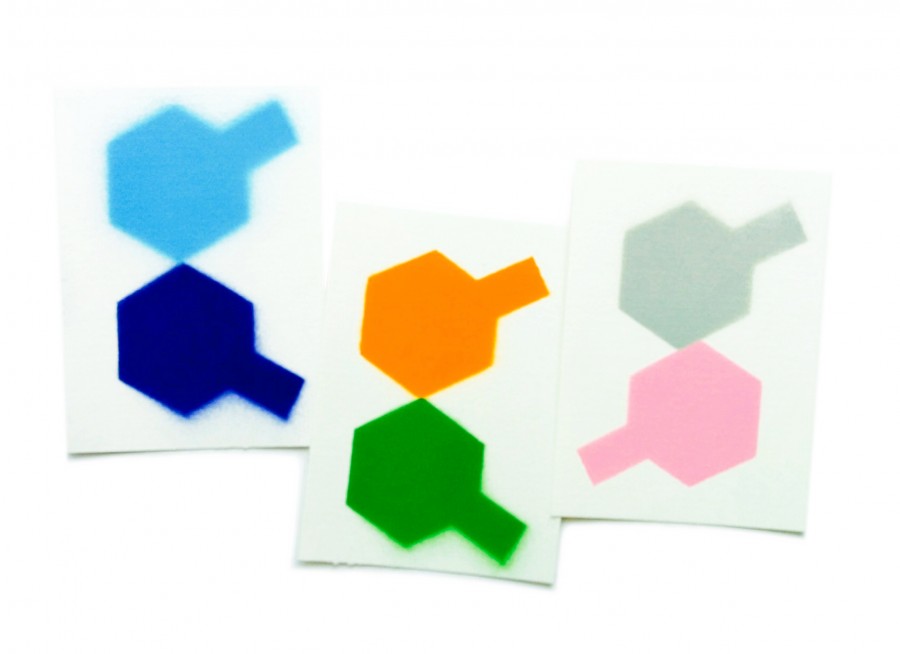 ---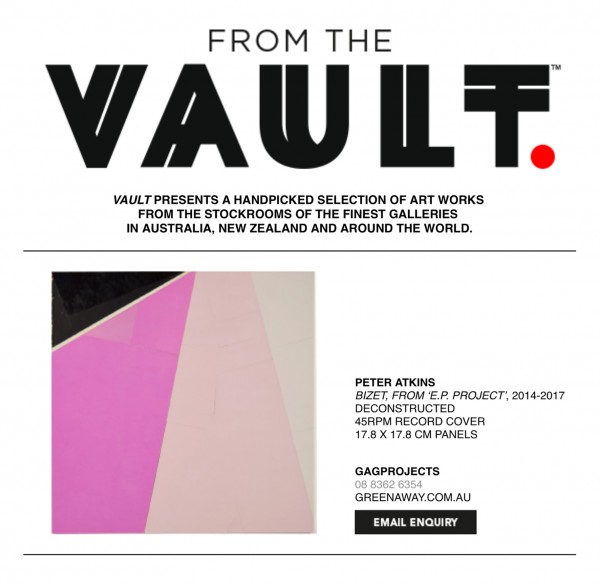 ---
Excited to announce my inclusion in the Ten Cubed collection. Ten Cubed is a new model collecting initiative with a long term commitment to supporting contemporary artist's practices. Fortunate to have three complete projects in the collection stretching back to Disney Color Project commissioned for the Clemenger Art Award at the NGV in 2009/10 and later shown at Art|Basel Hong Kong with Tolarno Galleries in 2016. Love Letters exhibited at SPRING1883 in 2016 and Tamiya Colour Chart shown as part of Tolarno Galleries 50th anniversary celebrations in 2017. I'll be drawing upon these and other new works for my exhibition with Ten Cubed in February 2018.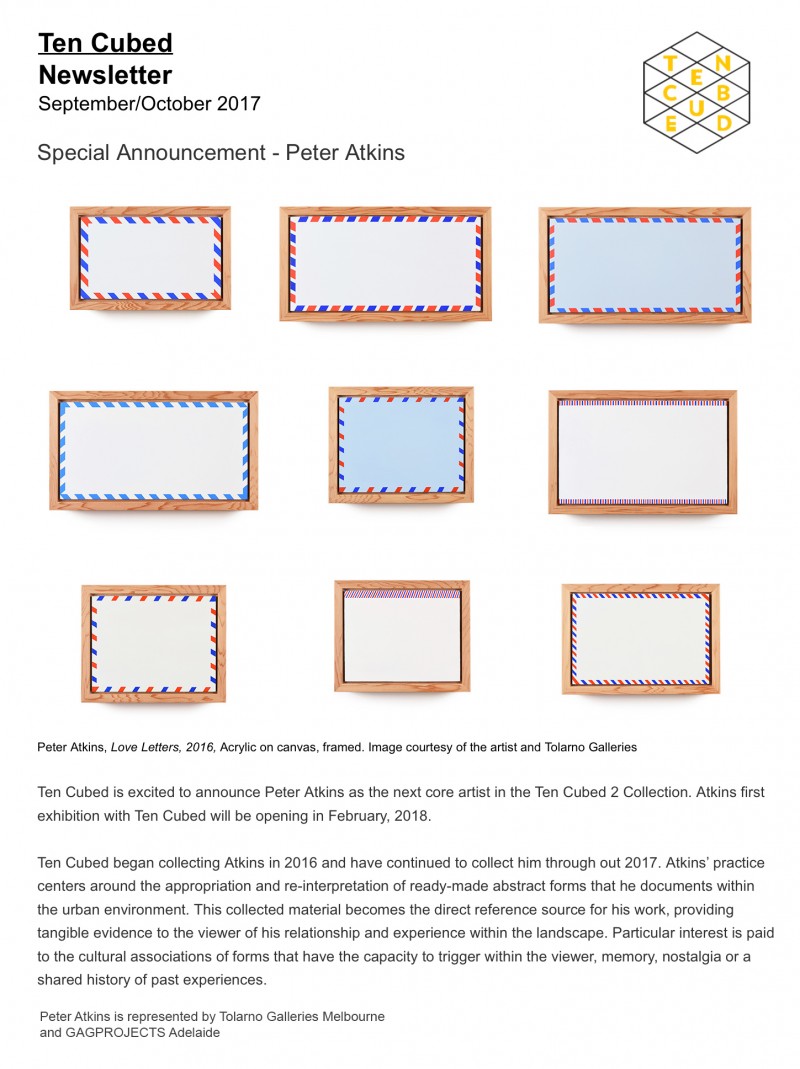 ---
The City of Melbourne collection is now online.
Melway Project was commissioned for the collection in 2009/10.
Click here to view Melway Project or here to view The City of Melbourne's collection.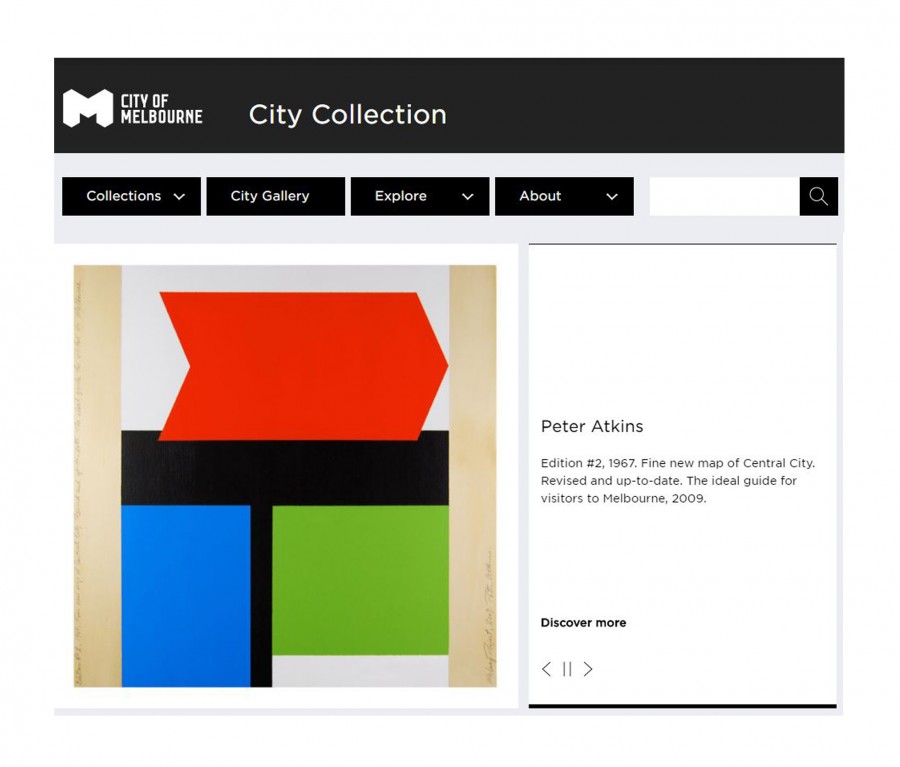 ---
TolarnoGalleries@50
Tamiya Colour Chart
Hand-painted multiple of 10 (40 colours in each set)
Acrylic on paper
180mm x 180mm each
2016/17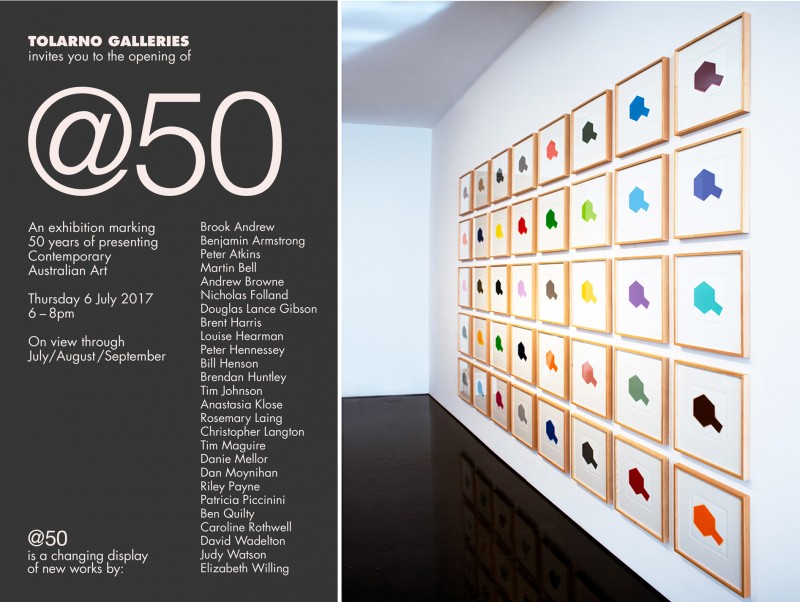 ---
In Stereo
GAGPROJECT | Adelaide/Berlin
July 8 - July 30 2017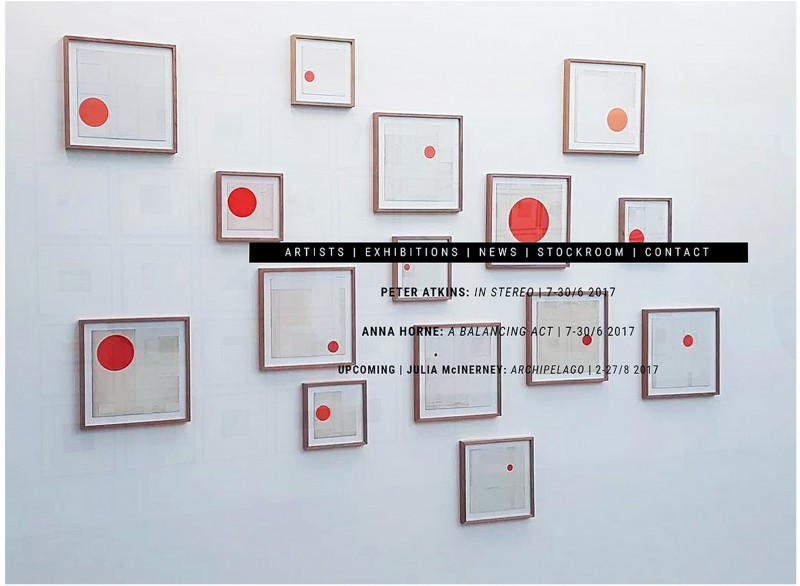 ---
Trocadero Art Space
A small show of imperfect paintings
Curated by Chris Bond
June 28 - July 15 2017
A small show of imperfect paintings is a modest gathering of failed paintings by twenty one accomplished artists. The works in this exhibition hover in a space where control over concept, aesthetics, motivation and technique has been lost or abandoned. This space is the domain of wabi sabi ‒ of imperfection, impermanence, irregularity, modesty, neglect, damage and incompletion. Imperfection in a painting emerges from the uncertain condition of its making and reception. Paintings are hard to begin, difficult to stop and defy easy objective evaluation, and the unease generated by the absence of clarity during each stage can quickly spill into an overwhelming feeling of not-quite-rightness. That feeling is the result of an acute awareness of the distance between the artist's intention and the work's material actuality, but it is not a feeling that necessarily needs to be reconciled, for once the painting has been designated as imperfect, it finds itself liberated from all of the things that it should be doing into something that simply exists by – and for – itself. Imperfection, let alone failure, is of no value in the contemporary economy of the unblemished and the functional. A small show of imperfect paintings provides the lightest of counterweights to this bias, opening a forum for a reconsideration of what might seem unreasonable: the idea of a kind of freedom, or maybe even perfection, in failure.
Artists exhibiting:
Colleen Ahern, Peter Atkins, Louise Blyton, Chris Bond and Drew Pettifer, Michael Brennan, Yvette Coppersmith, Craig Easton, Juan Ford, Julia Gorman, Stephen Haley, Irene Hanenbergh, David Hawley, PJ Hickman, Sam Leach, Tony Lloyd, Rob McHaffie, Jan Murray,, Lynette Smith, Bryan Spier, Darren Wardle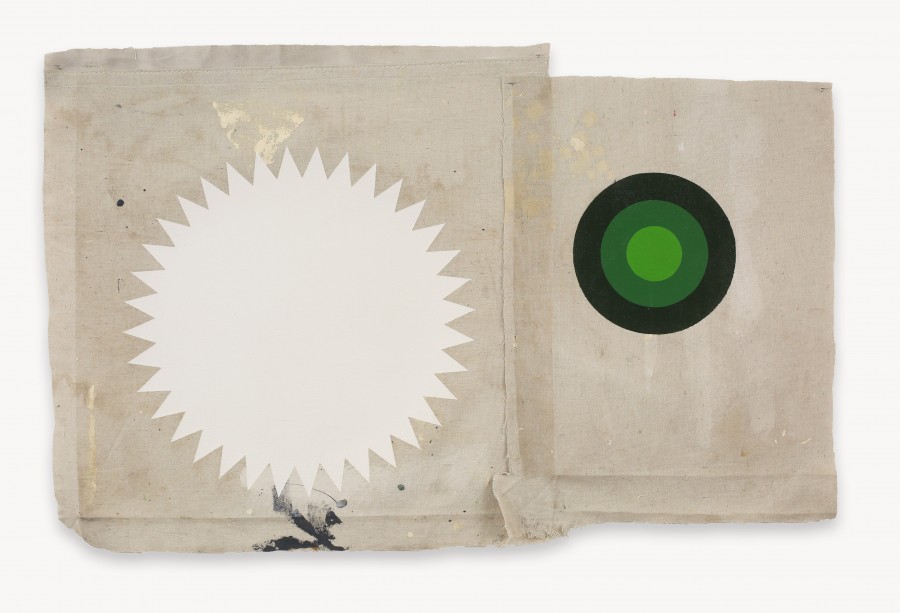 Remnants from a Failed Painting 2013
---
LESS THAN
QUT Art Museum
18 MARCH TO 21 MAY 2017
In today's world of 'reduce, reuse, recycle' and bestselling books on the Japanese art of decluttering, this exhibition delves into the artist's pursuit of nothingness—or at least the next best thing. Reductionist techniques—repetition, limited or monochrome colour, seriality and plain-spoken materials—have been used by artists working in geometric abstraction, colour field painting, conceptualism and minimalism during the last century, and are today more relevant than ever. Less than: Art and reductionism presents works from the QUT Art Collection by Australian and international artists who employ a reductive approach or aesthetic, dating from the 1960s to now.
ARTISTS
Michael EATHER, Pierre SOULAGES, Mervyn MUHLING, Christian CAPURRO, George WARD TJUNGURRAYI, Rodney SPOONER, Eugene CARCHESIO, Rosella NAMOK, Margery EDWARDS, Leonard BROWN, Ian BURN, Rover THOMAS, Sam CRANSTOUN, Arryn SNOWBALL, Rosalie GASCOIGNE, Donna MARCUS, Judith WRIGHT, Allan MITELMAN, Alex SETON, Turkey TOLSON TJUPURRULA, Daniel MCKEWEN, Alexander CALDER, Margaret WILSON, Robert MACPHERSON, Sean SCULLY, A.D.S. DONALDSON, John NIXON, Sol LEWITT, John COBURN, Trevor VICKERS, Peter ATKINS, Gemma SMITH
CURATOR
Katherine Dionysius
Hume Highway Project
12 silkscreen prints hand printed by the artist
25cm x 25cm each in an edition of 20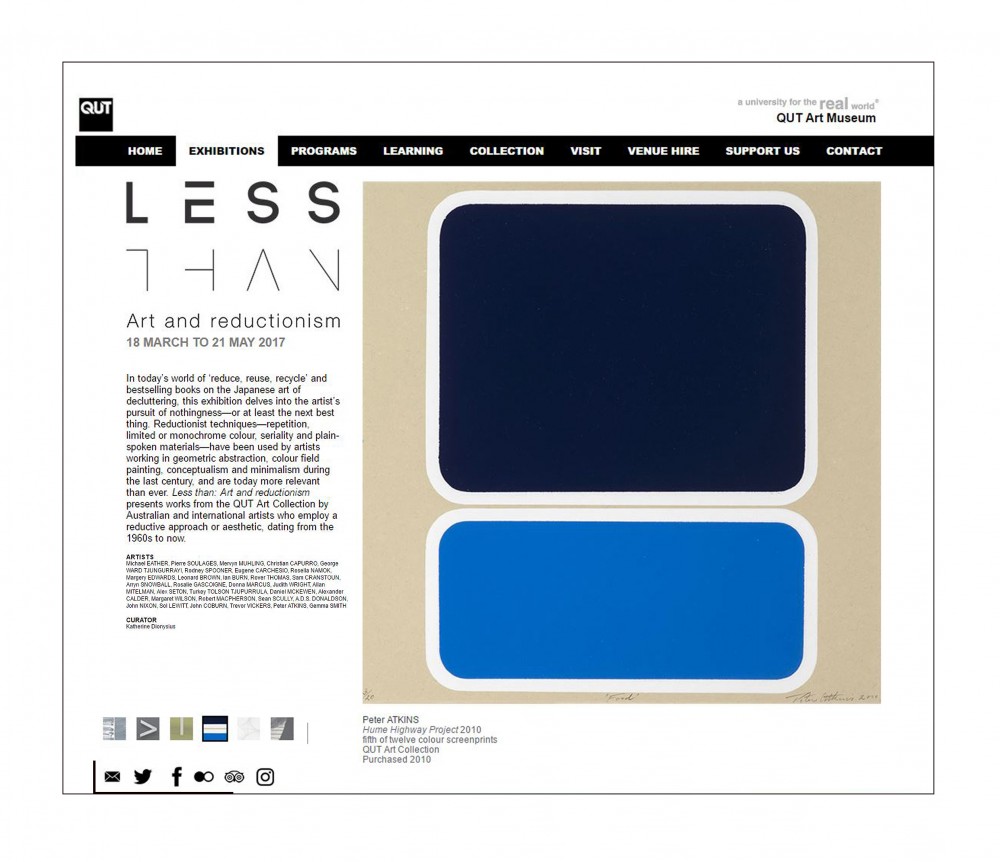 ---
Bricolage
27 March – 28 April 2017
Adelaide Central School of Art
Peter Atkins and Matt Arbuckle
A bricolage is a new creation, assembled from what is to hand at the time of making...
This exhibition brings together drawing and painting works by contemporary artists Peter Atkins and Matt Arbuckle, each renowned for repurposing found materials to create original artworks. These artists are observers and collectors, who use narrative-laden materials to tell fresh stories. Bricolage presents new works by Matt Arbuckle and works by Peter Atkins never before exhibited in South Australia.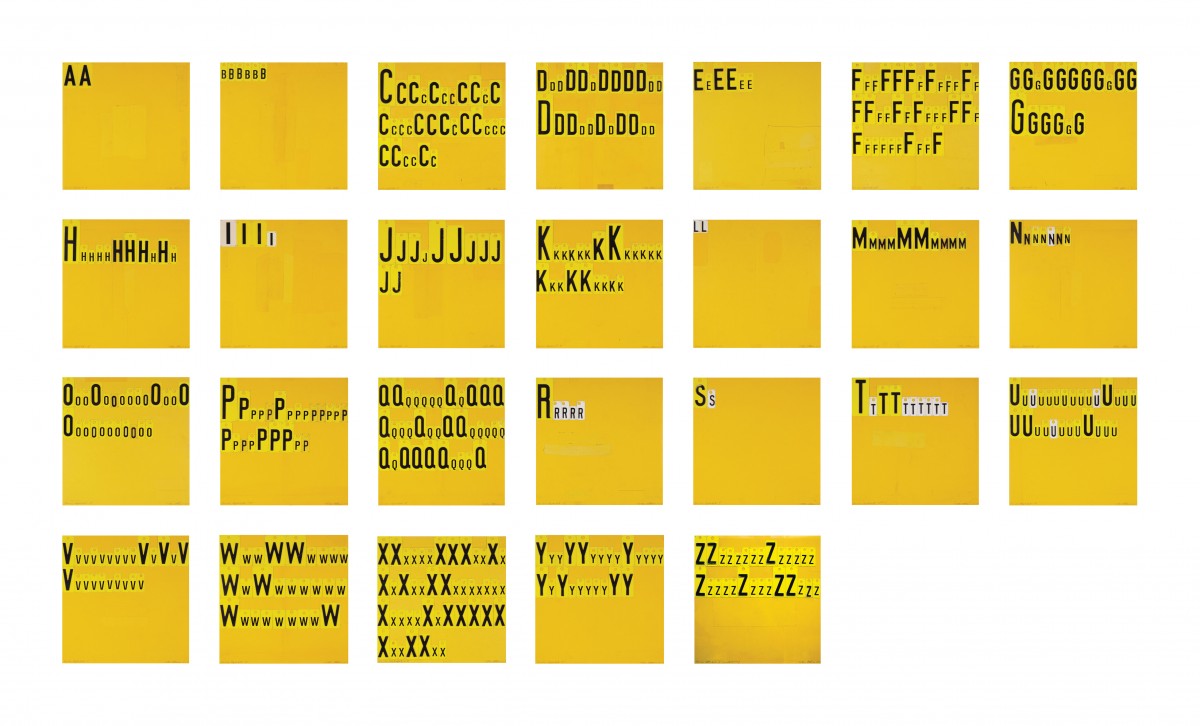 Detail from Obsolete Logo's (first series) 2014
63 works in total. Acrylic on found ledger paper.

---
FAUX STUDIO
C3 Annual Fundraising Exhibition
3 Dec - 11 Dec 2016
In 2014, c3 launched a series of curated fundraising exhibitions to assist with the long-term sustainability of the gallery and to raise money to support artists by reducing the gallery fees and paying sales commission. While raising money was the goal of the show, the team was keen to work with fundraising as a creative concept. 2014's 'Faux Museum' explored how large-scale institutions create funding opportunities through their environments and functions, while 2015's 'Faux Fair' presented a play on the economics of the commercial art fair. Both shows were a huge success and raised enough to reduce the exhibition costs by over a third for 2015/16. The gallery also gave 50% of the proceeds back to the artists who donated their work, adding another layer of cash support.
Telecom #1 #2 #3
Ink on found ledger paper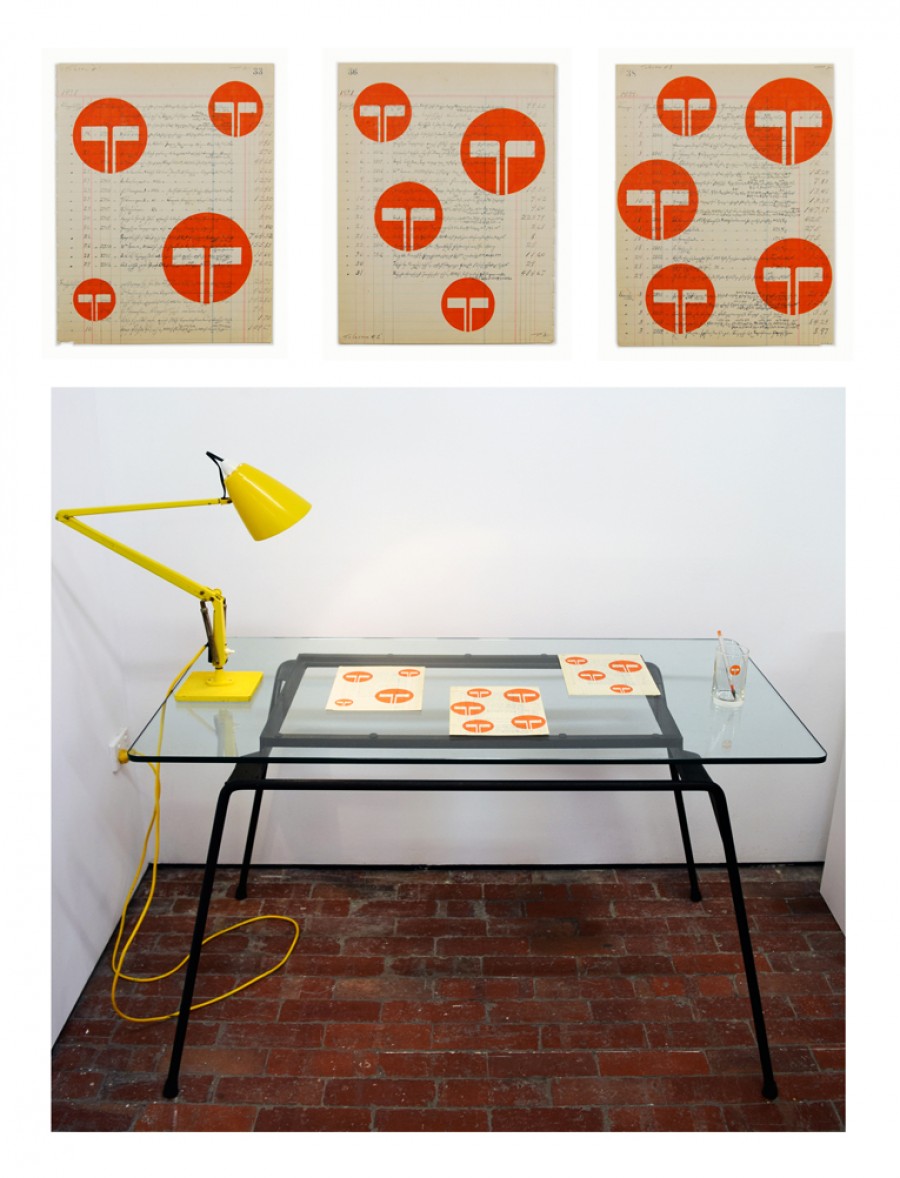 ---
Re-Purposed
Drill Hall Gallery
Novemeber 11 - December 16 2016
Canberra
Reviewed Sasha Grishin

LINK to Sasha Grishin's review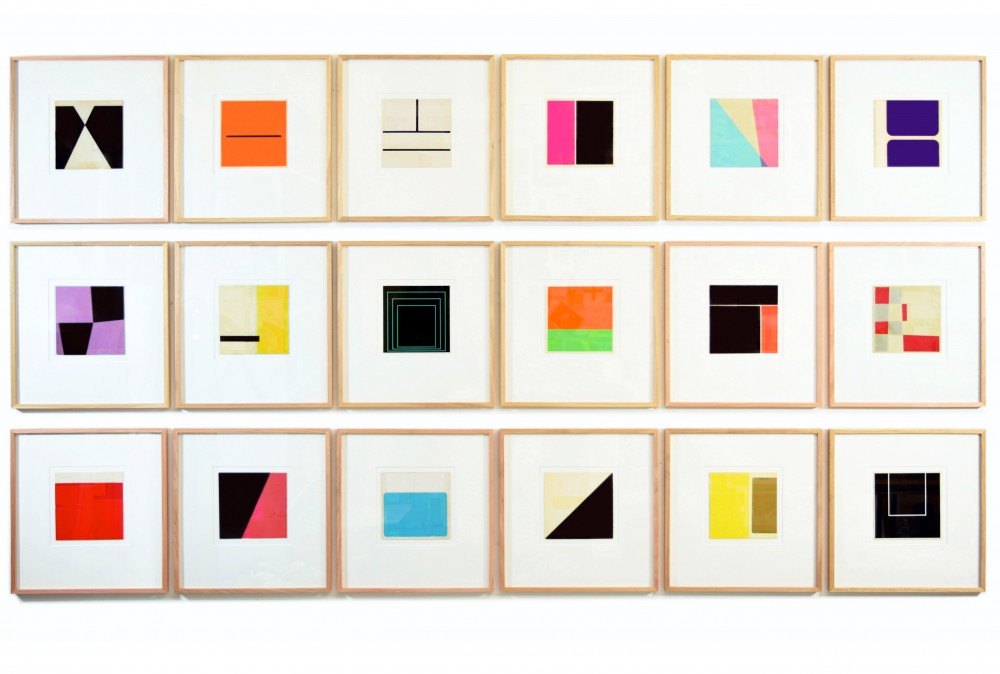 ---
Re-Purposed
November 11 - December 18 2016
Drill Hall Gallery
Australian National University
Canberra
Re-Purpose takes its impetus from the early collages of Braque and Picasso (and later, from Robert Motherwell) which demonstrate the potential of a "foreign" object to act as an artistic catalyst. The unprecedented use of pre-existing items in their collages entailed swatches of printed matter or textiles being incorporated (re-purposed) into a new context and given a new identity.
It is apparent to us in retrospect that this use of ready-made items served to challenge the precedence and priority of the "model" in earlier representational art. The works of these artists has laid a foundation for subsequent practice, where a work's composition can no longer be dissociated from its subject matter.
Re-Purpose presents a range of abstract objects and images by three generations of artists: Matt Arbuckle, Peter Atkins, Chris Carmody, Nicole Ellis, Robert Motherwell, Elizabeth Newman and Trish Roan. All of their works feature a foreign object, a third party,a ready-made pretext or a pre-existing form that generates a fresh outcome. Through incorporation or obliteration, addition or subtraction, the re-purposed template alters its identity and its function.
Once the enemy, it has become the ally of invention.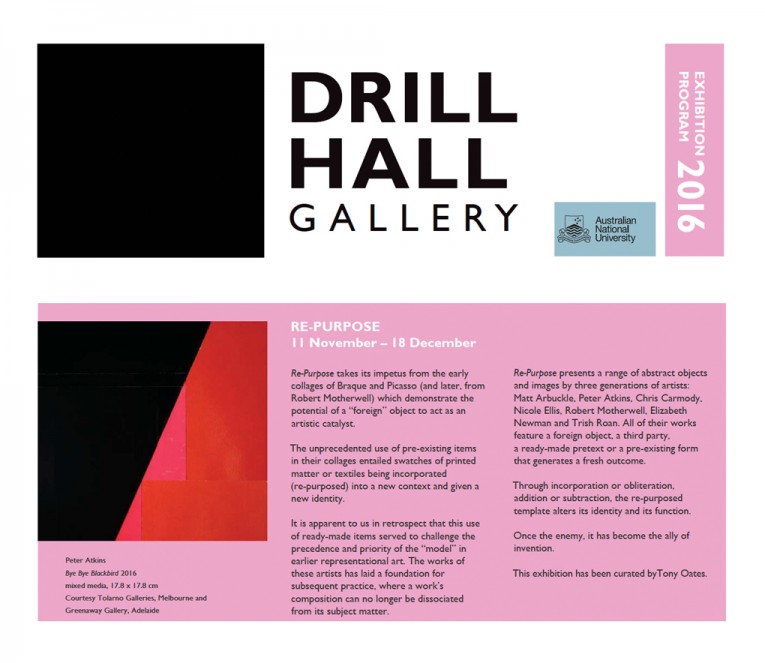 ---
Abstraction 15
Charles Nodrum Gallery
October 6 - October 29
The fifteenth installment of our annual exhibition, showcasing Australian Abstraction from the 1950s through to contemporary.
link to COMMUNITY POLYCHROME PROJECT 2006
---
'L' is for Love Letters
the a-z of spring1883 art fair
It might still be winter but SPRING is here. With a full program of contemporary art staged in Melbourne's Hotel Windsor, here's what you shouldn't miss.
Link here to full alphabet a-z of SPRING1883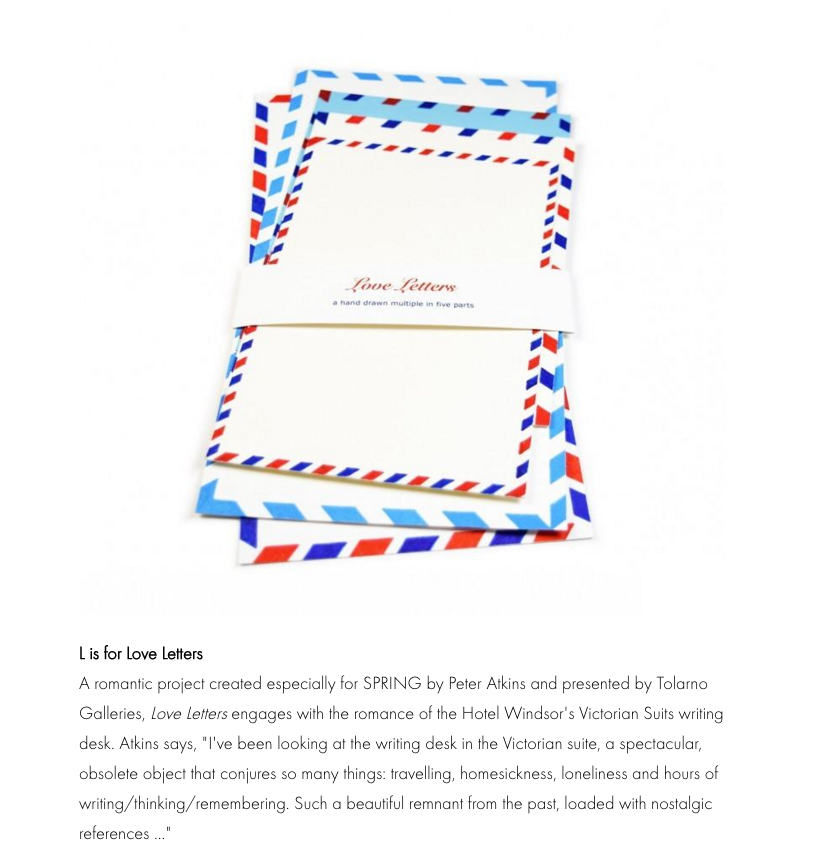 ---
Interview with Dr Peter Hill
Art Collector
2016 Edition of Spring1883
Link to Love Letters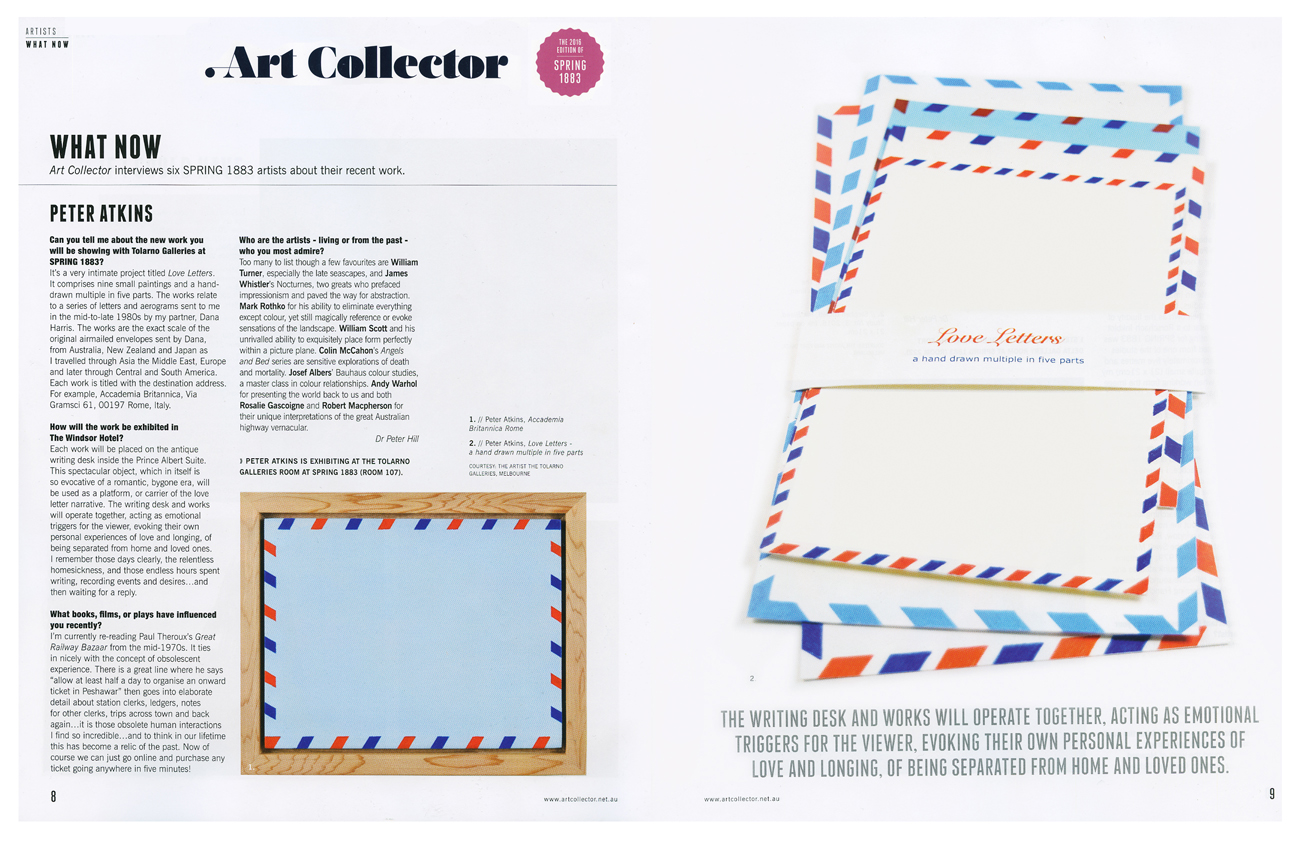 ---
BLOUINARTINFO
Sneak Peek: What to see at SPRING1883 in 2016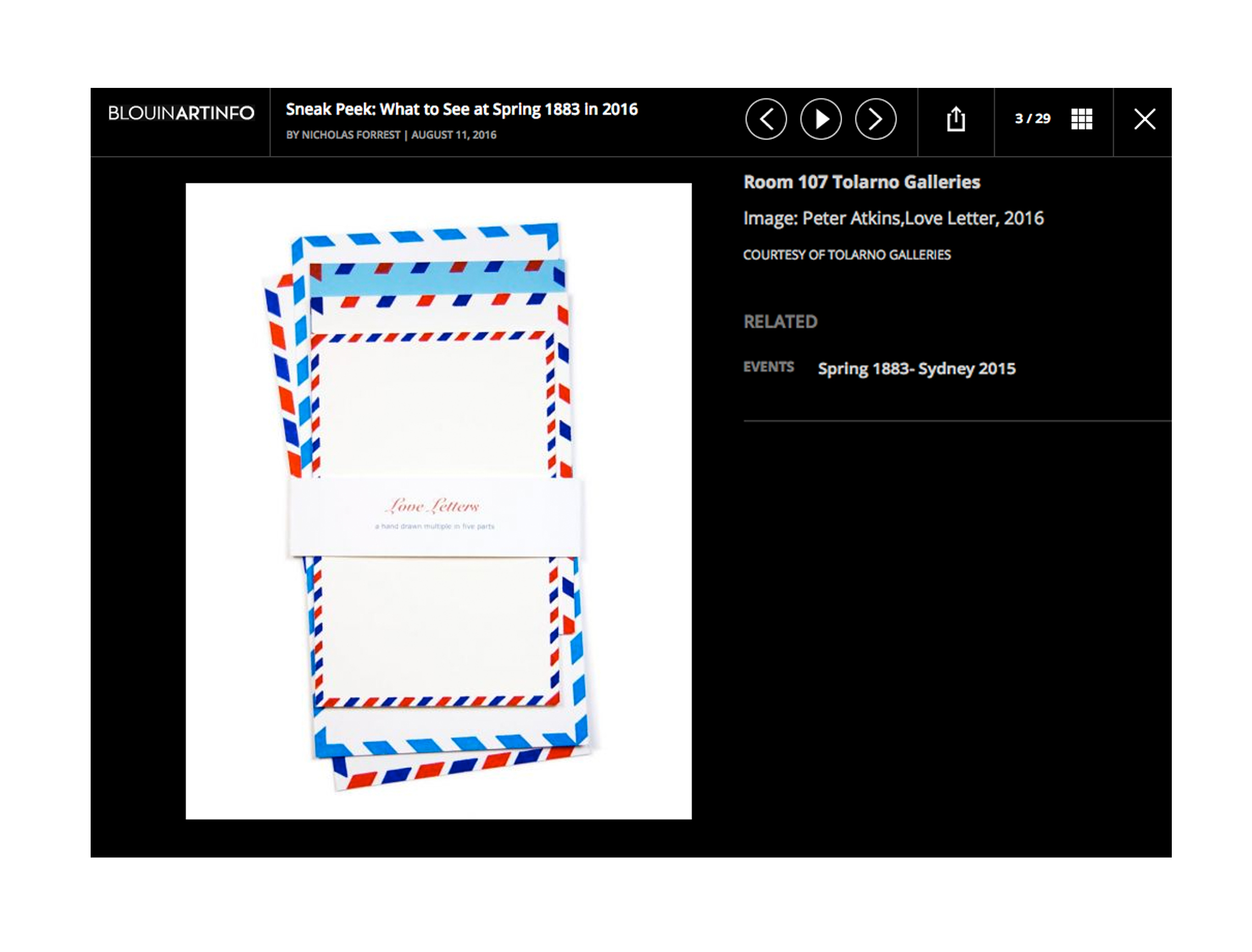 ---
Love Letters
Tolarno Galleries
Spring 1883
Aug 17 - 21 2016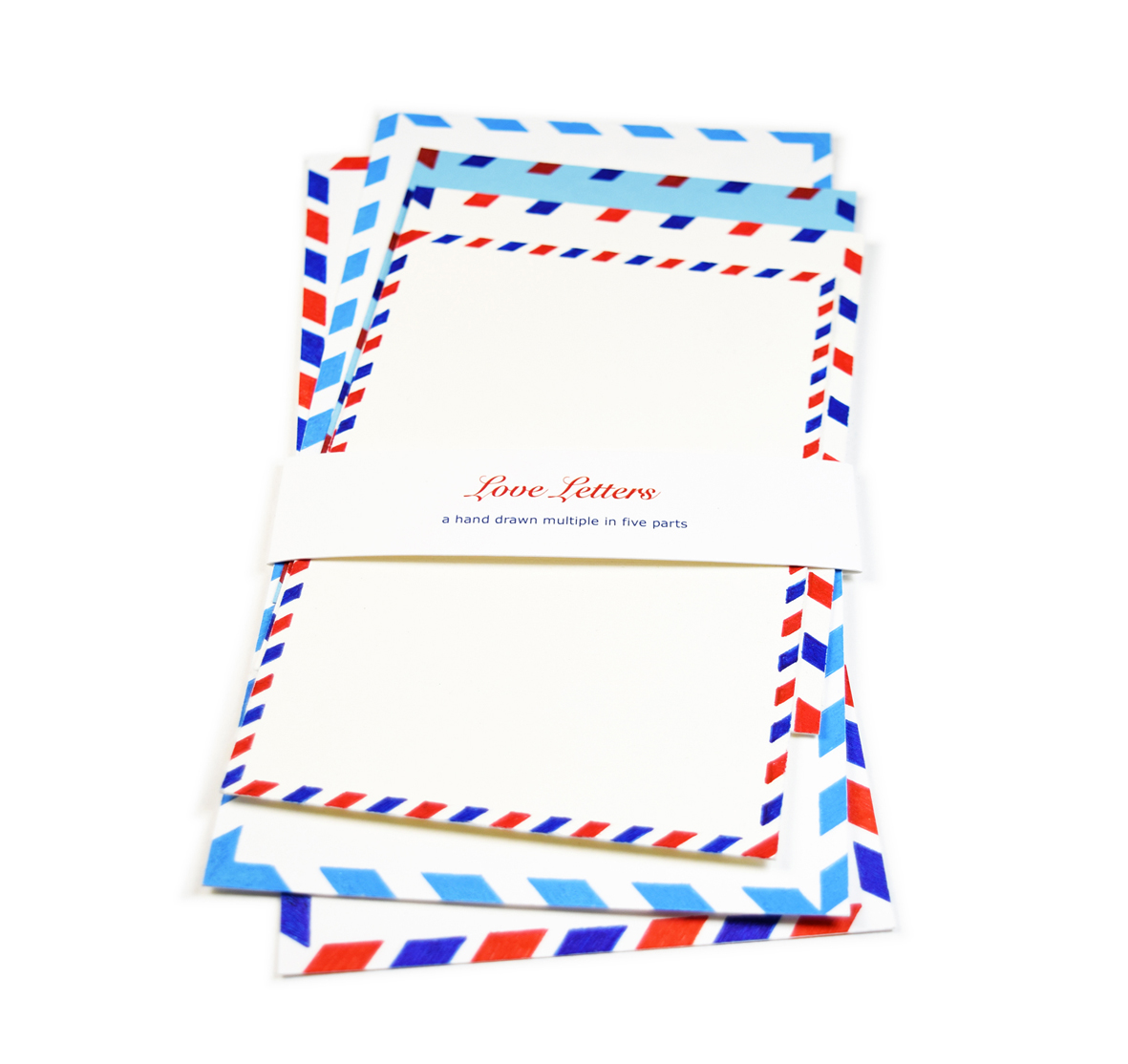 ---
NEWS 2016
Deakin University Small Sculpture Award
June 8 - July 15
Medicine 2012-15 is included in The Deakin University Small Sculpture Award. In its eighth year, this annual acquisitive award and exhibition is organised by the Art Collection and Galleries Unit at Deakin University. Link to Medicine 2012-15
Medicine 2012-15:
Viagra
Nasal Spray
If Pain Persists
Wart-Off
Volaren Rapid
Sun Cream
24hr Relief
Heartburn
Two Tablets Daily
No Doz
Control Pain - Live Life
Non - Drowsy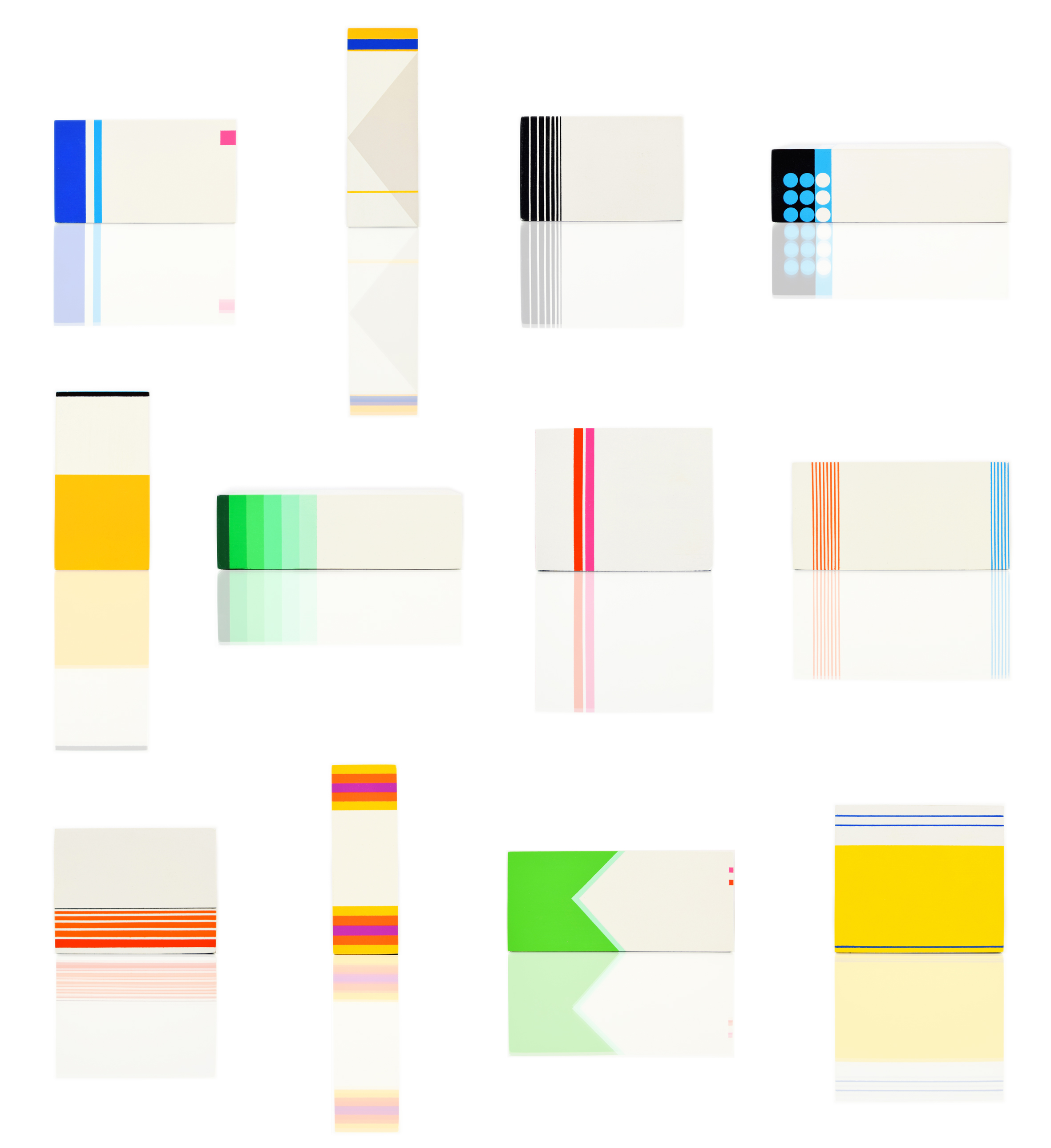 ---
NEWS 2016
The Age Cover Story
Spectrum 23.04.2016
On The Map by Andrew Stephens
Celebrating the 50th Anniversary of Melbourne icon, MELWAY.
Illustrated with works from Melway Project which was commissioned for the City of Melbourne in 2009/10. Currently installed over 4 levels of the main staircase in the Melbourne Town Hall.
Link to PDF of On The Map
Link to The Age Cover Story online version.
Link to Melway Project 2009/10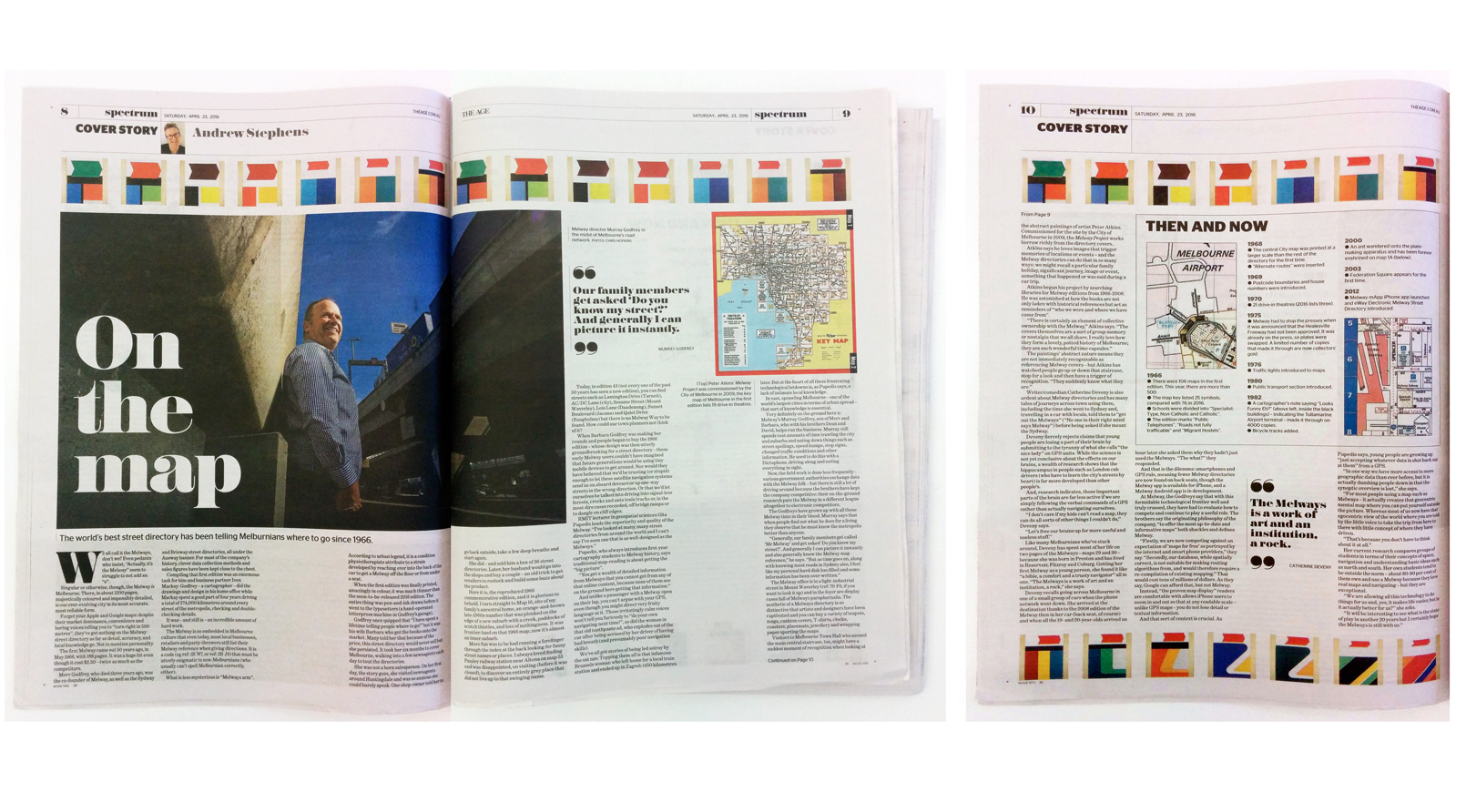 ---
NEWS 2016
OCULA
The Low Down: Art Basel in Hong Kong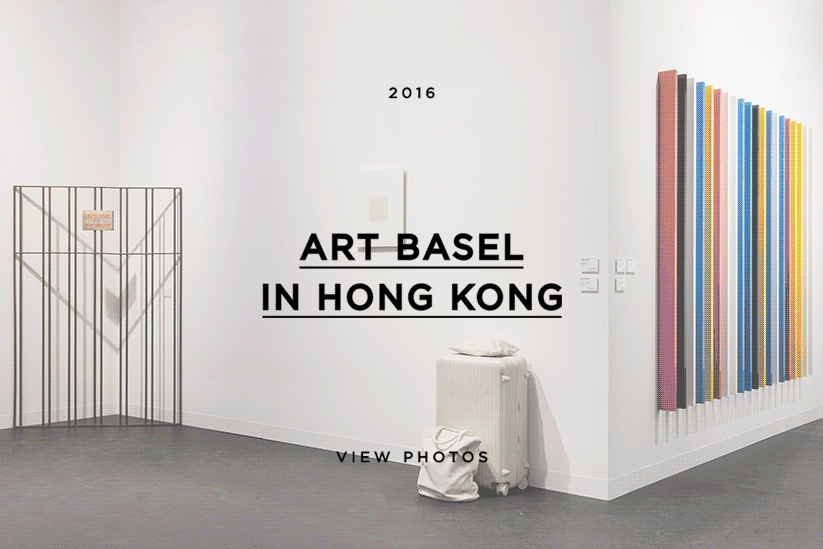 ---
NEWS 2016
'Disney Color Project' has been acquired by Ten Cubed gallery, Melbourne.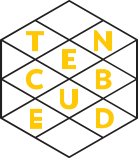 ---
NEWS 2016
A wearable multiple made especially for Art Basel-Hong Kong in Orange, Blue, Black and Pink.

---
NEWS 2016
Tolarno Galleries
Hong Kong - Art Basel
Level 1, Booth 1B18
March 22 - 24 2016
Disney Color Project, originally commissioned for the Clemenger Contemporary Art Award at The National Gallery of Victoria in 2009/10, will be exhibited at Hong Kong Art Basel by Tolarno Galleries, Melbourne.
Disney Color Project LINK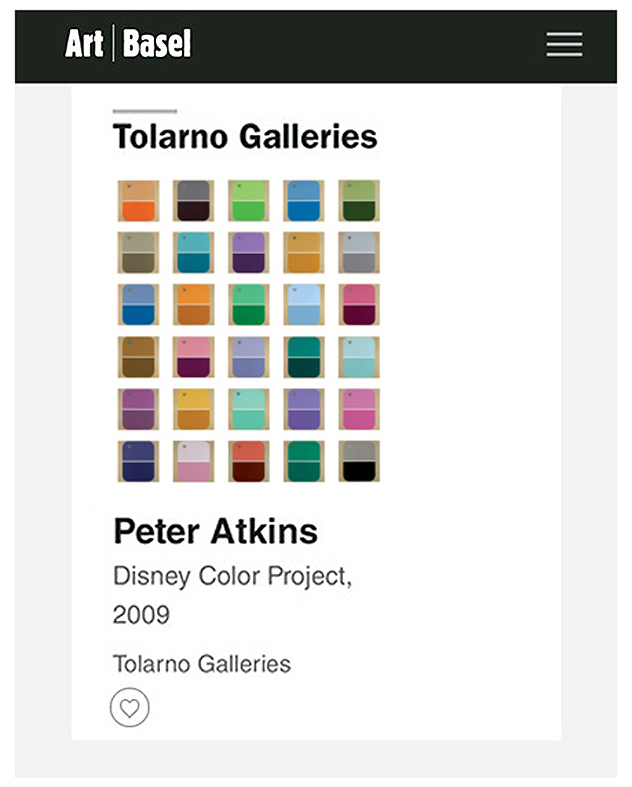 ---
NEWS 2016
The Traveller: Experiencing Movement, Time & Place
17th March - 12th June 2016
Town Hall Gallery, Hawthorn
Peter Atkins
Patricia Piccinini
Callum Morton
Shaun Gladwell
Louise Forthun
Matthew Sleeth
| | |
| --- | --- |
| | Navigating our way through the world is the height of adventure, where the journey is often as important as the destination. Experience ideas about movement and passage in artworks by some of Australia's most celebrated artists. Carefully selected from the Lyon Collection, this exhibition takes you on a journey through time, space and place – through the vast Australian outback, our urban and suburban landscape, and the virtual world. Features works by Patricia Piccinini, Matthew Sleeth, Callum Morton, Shaun Gladwell, Peter Atkins and Louise Forthun. The Lyon Collection is one of Australia's largest and most significant collections of Australian contemporary art. The Collection includes more than forty five artists represented in depth, and offers insights into significant moments and shifts in Australian contemporary art practice and thinking from the early 1990s through to the first two decades of the new century. Established in 1990, the Collection has been developed by Corbett Lyon and Yueji Lyon over a 25 year period as a large, privately held collection. In 2012, the Lyons established a new public museum entity, the Lyon Foundation, to secure a permanent future home for the Collection. Many works from the Lyon Collection have now been gifted to the public Foundation which has a charter to promote Australian contemporary art and to preserve and exhibit the Lyon Collection. The Foundation is currently finalising plans for its new public museum building to be constructed in Cotham Road, Kew. The museum will open to the public six days each week, commencing in early 2018. In anticipation of the development of the new public museum building, the Town Hall Gallery is pleased to present these key works from this public Collection. |
Hume Highway Project 2010, Lyon Collection, Melbourne.
---
NEWS 2016
The Complete Projects 2006 - 2016
An overview of the practice over the past decade.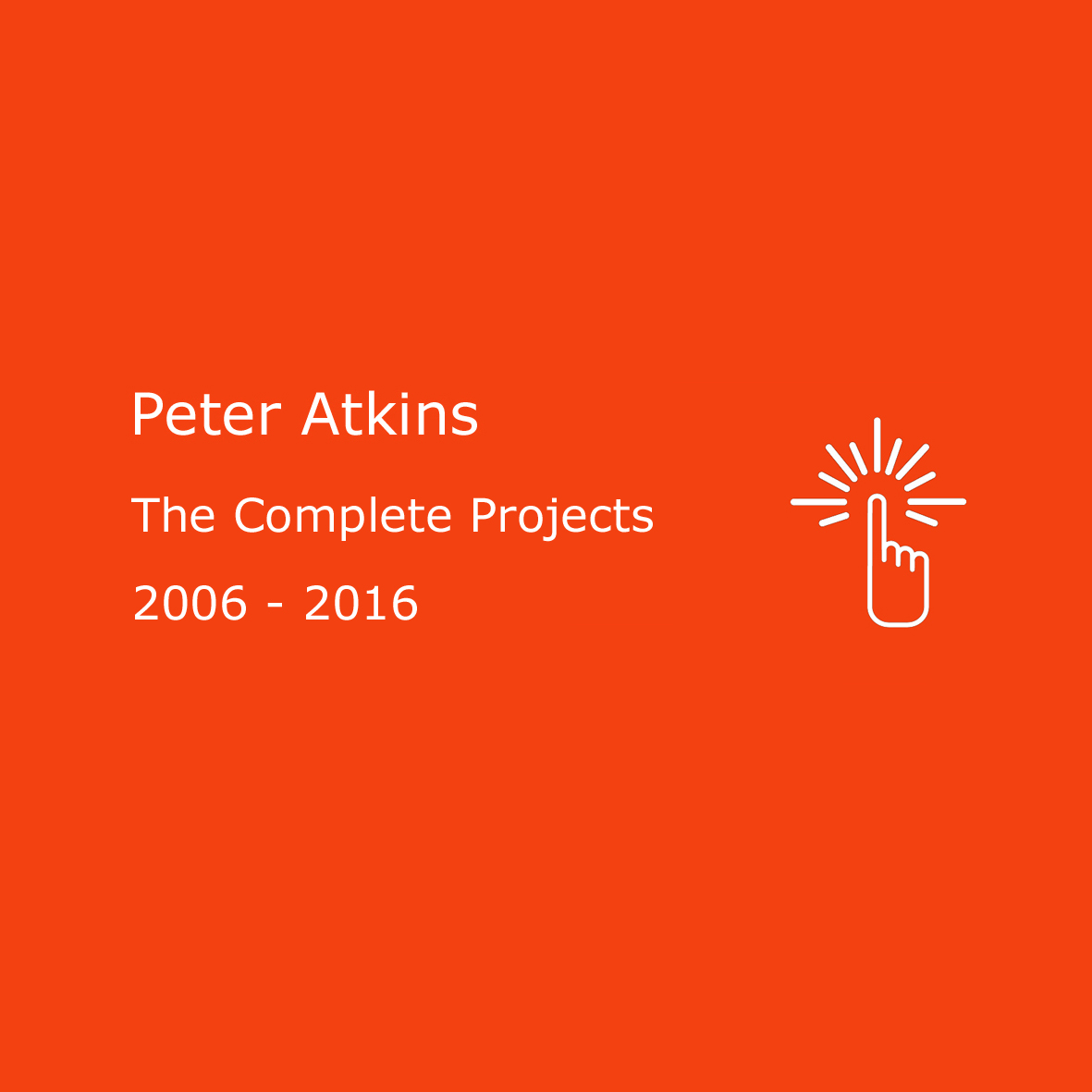 ---
NEWS 2016
My partner Dana Harris has a new website. Check it out. danaharris.com.au
---
NEWS 2015
Slideshow of all images relating to the design, fabrication and installation of my work 'Under Construction - Chaos and Order' for SCAPE 8:New Intimacies, Christchurch 2015
Link to slideshow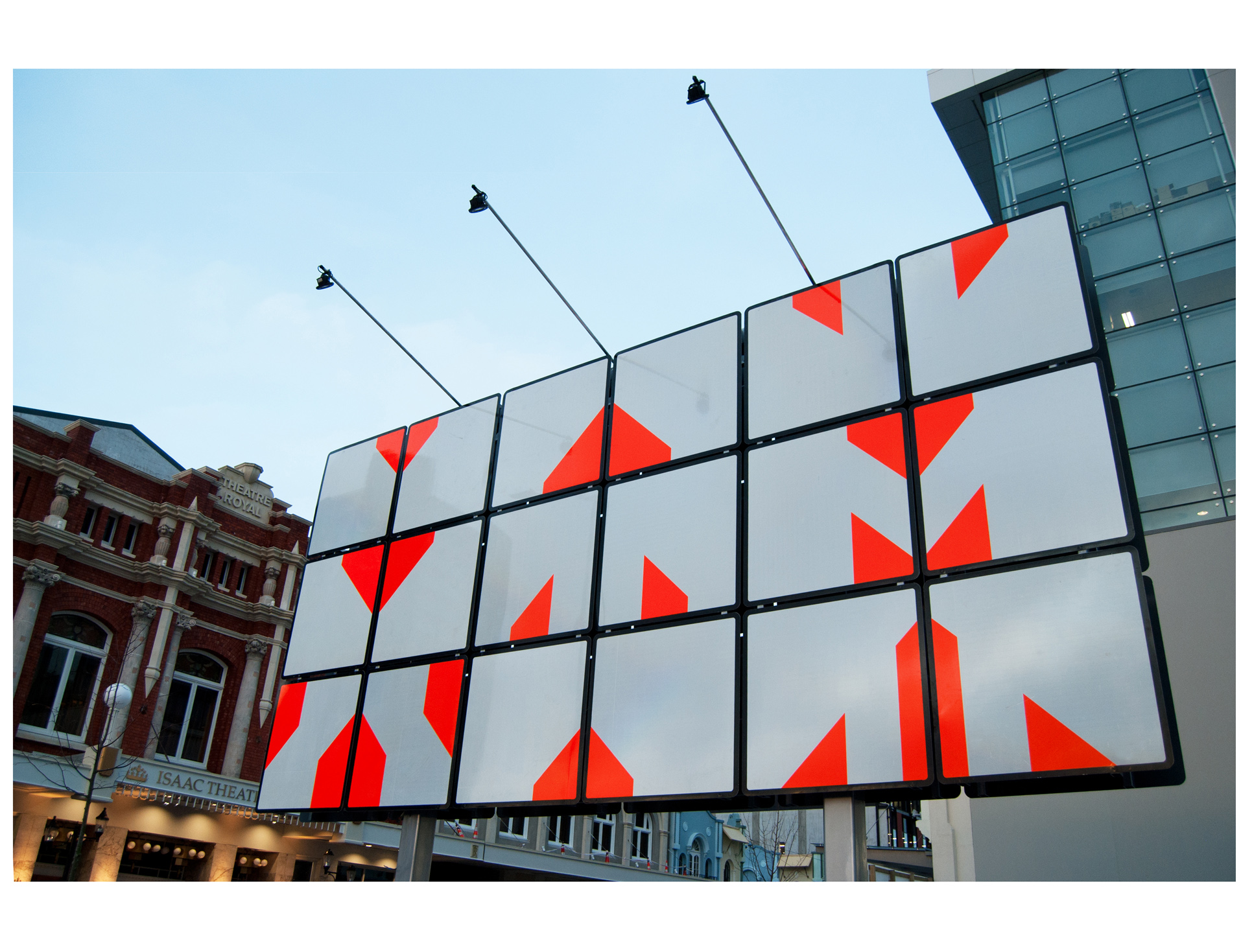 ---
NEWS 2015
Ocular interview describing the formation of my new public sculpture for SCAPE8 - 'Under Construction - Chaos and Order' as well as outlining the references I have made to the work of both McCahon and Gascoigne.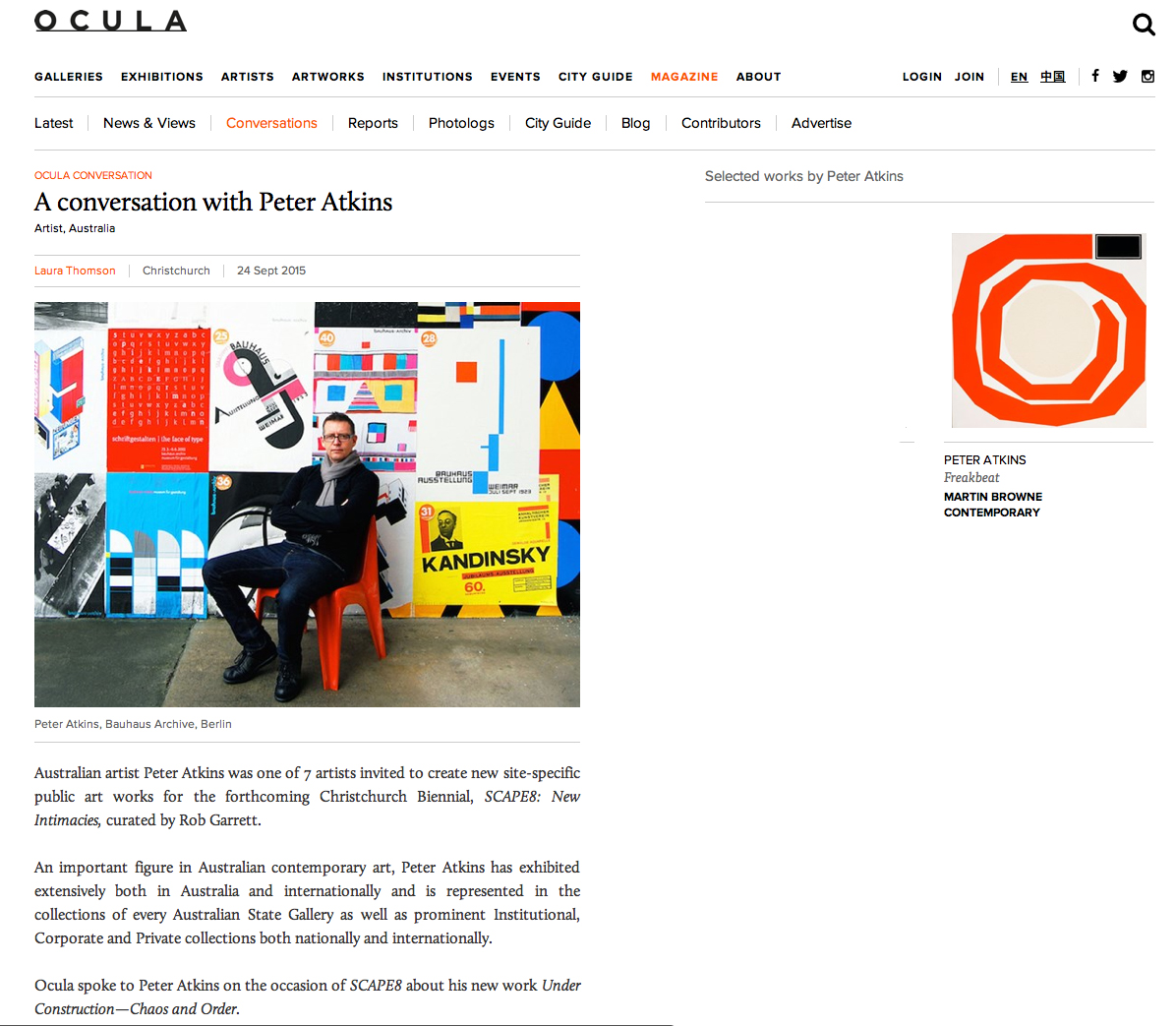 ---
NEWS 2015
Review of 'Under Construction - Chaos and Order'
'The Press' Christchurch, September 18th, 2015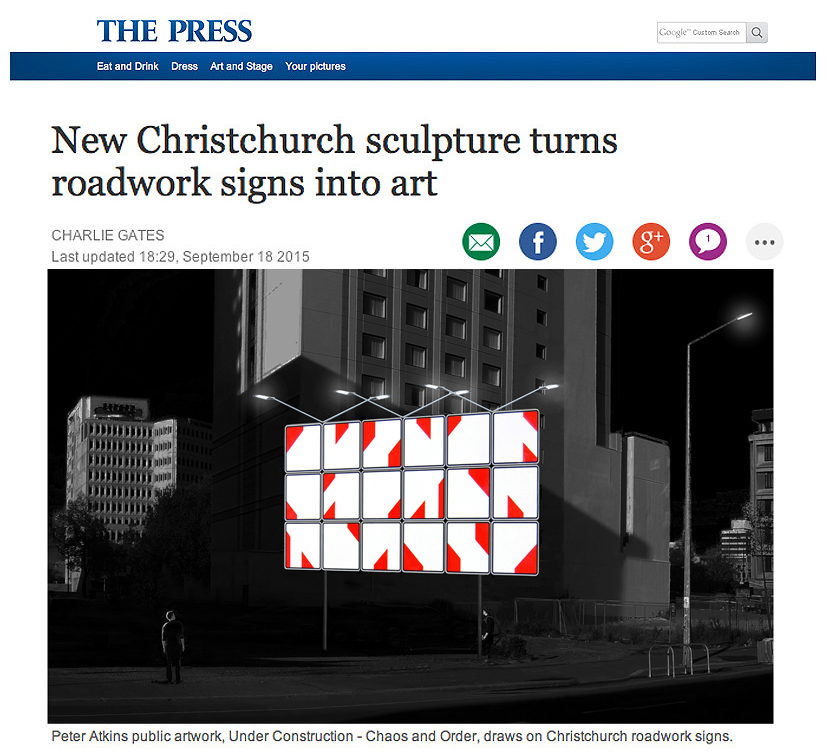 ---
NEWS 2015
Project Announced - 'Under Construction - Chaos and Order'
New Intimacies curated by Rob Garrett for the SCAPE8 Public Art Biennial, Christchurch, New Zealand.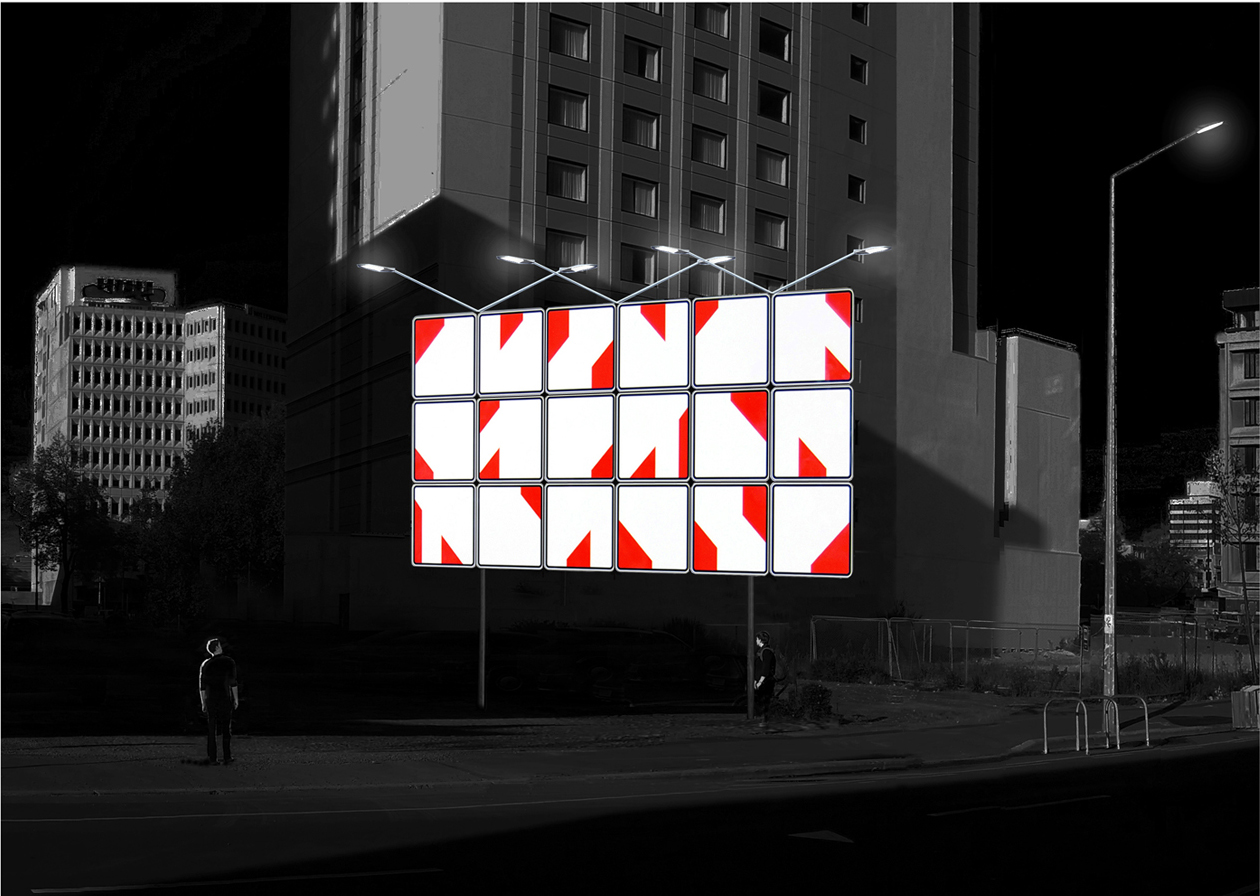 ---
NEWS 2015
I have written a short essay for Alan Constable's brilliant new exhibition, opening soon at Andrew Baker Art Dealer in Brisbane.
Alan Constable
Close-Up
Andrew Baker Art Dealer
Brisbane
Link to essay
---
NEWS 2015
Sydney Morning Herald
Critics Picks - 20 Things to see, hear and do this weekend...link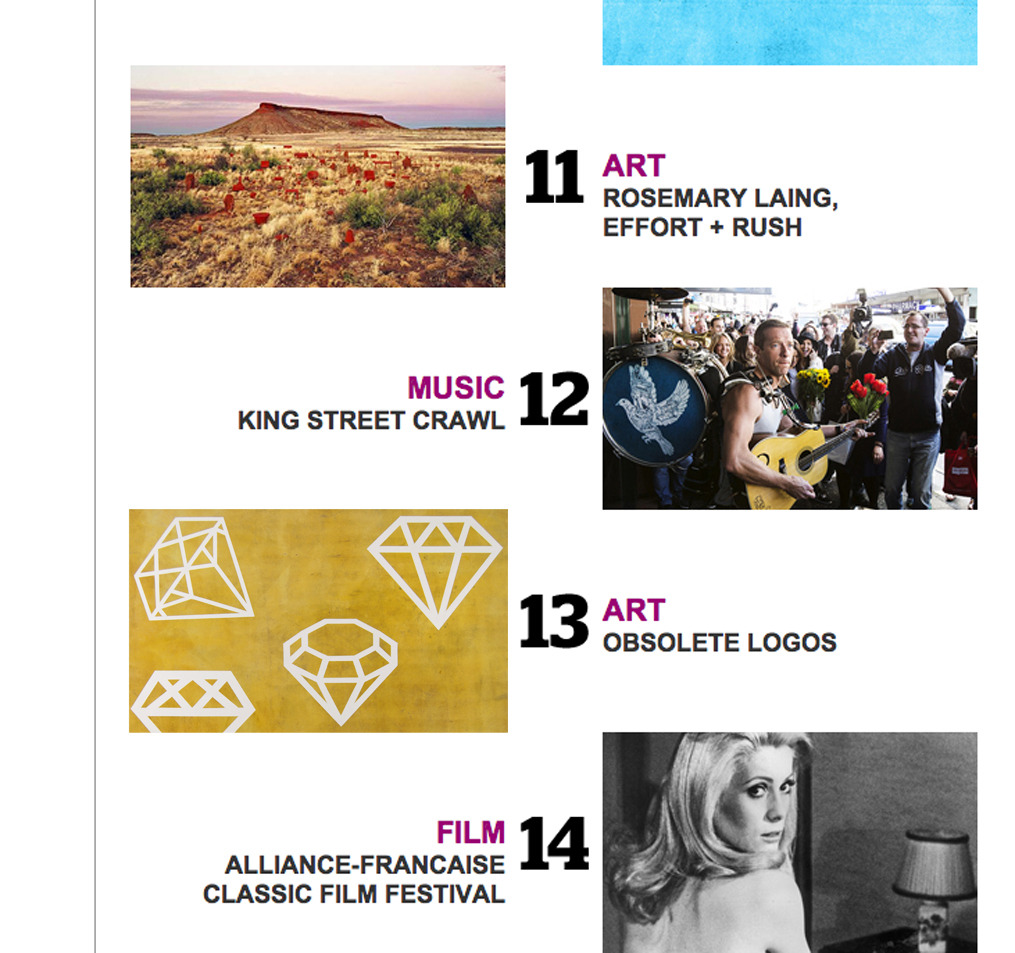 ---
NEWS 2015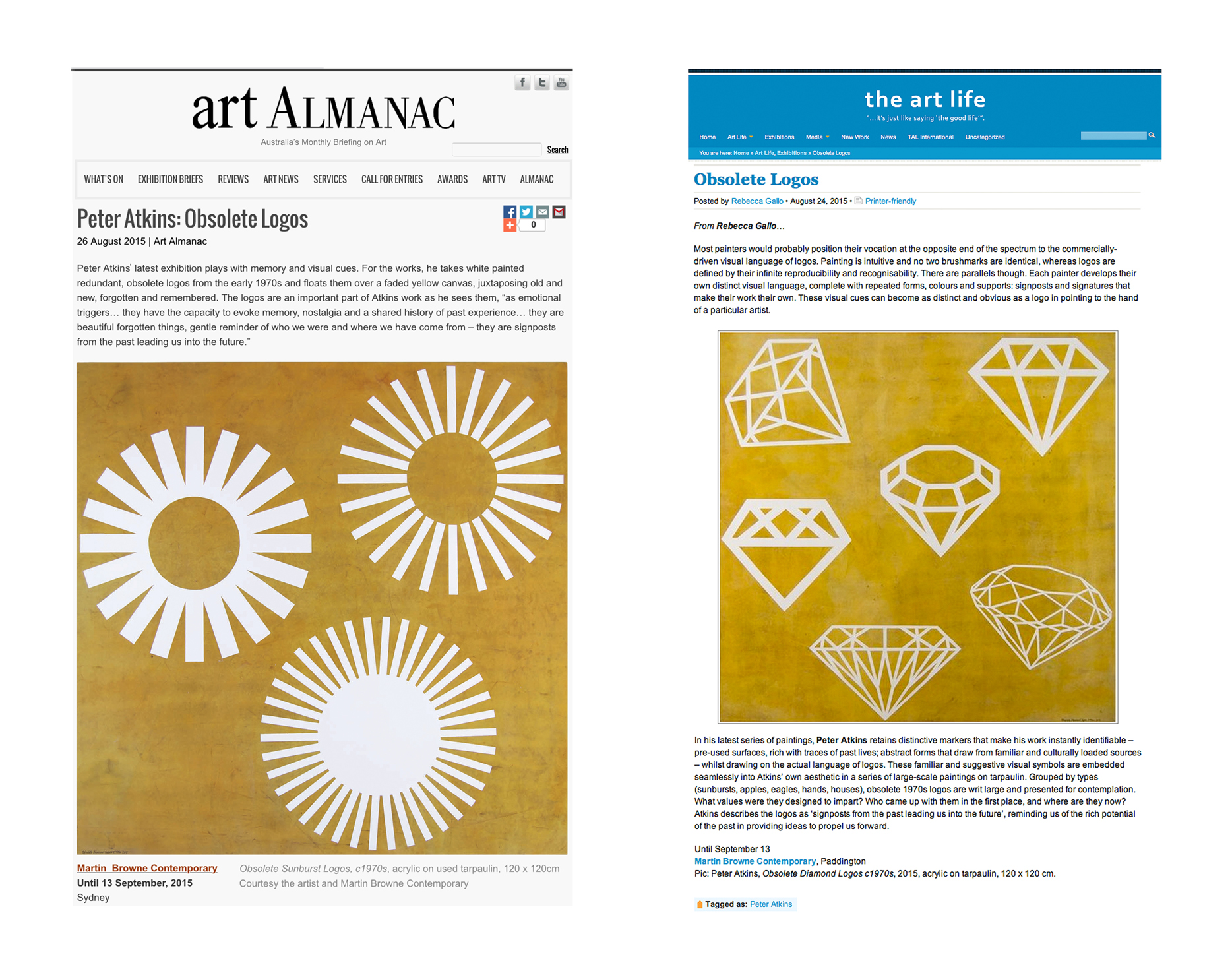 ---
NEWS 2015
Obsolete Logos
Martin Browne Contemporary
August 20 - September 13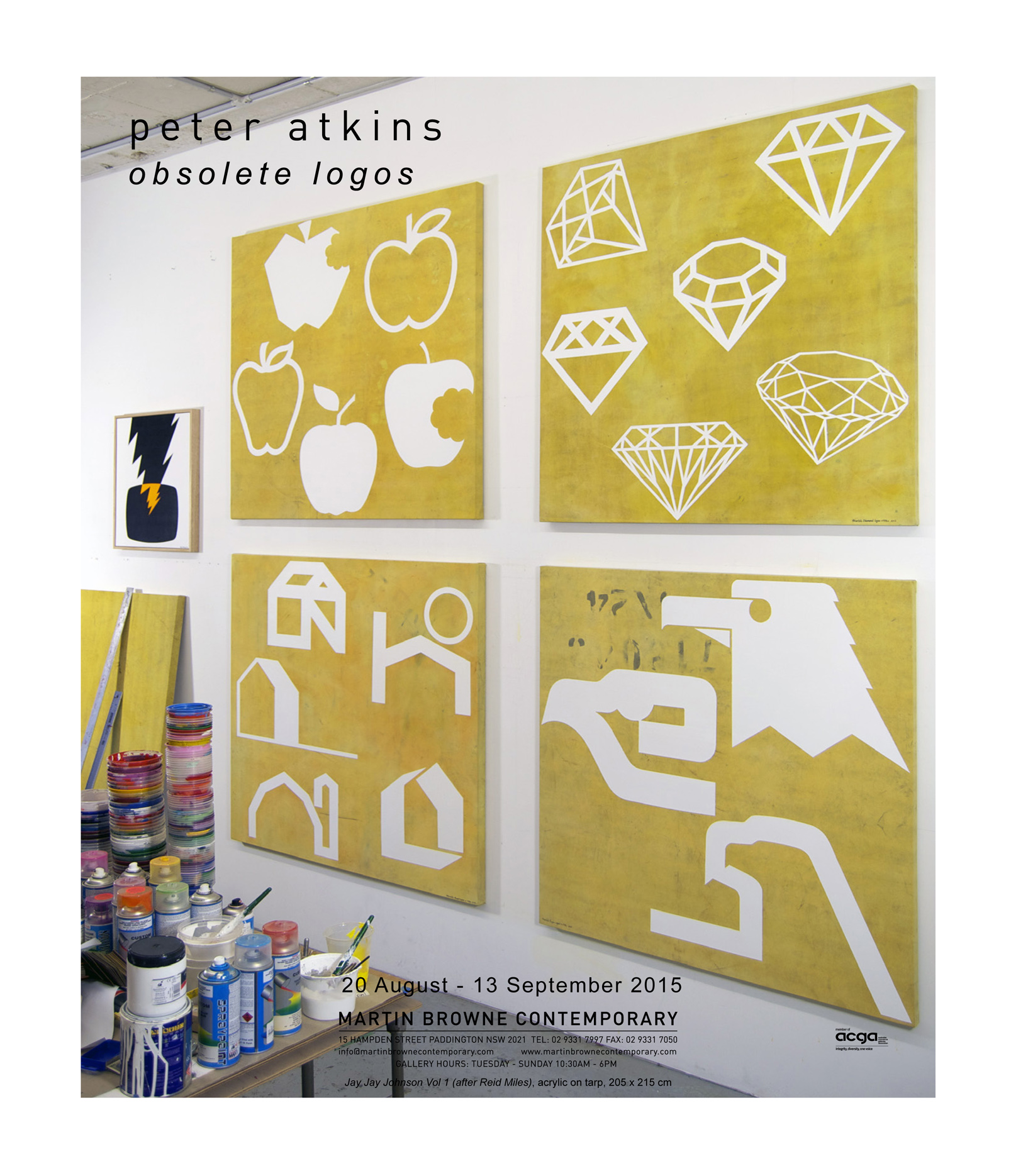 ---
NEWS 2015
I have written a short essay for Alexander Karinsky's new exhibition titled 'Songlines' in New York City. Alex and I studied painting together at the National Art School in Sydney. Check it out if you are in New York!
Link to essay here
---
Polaroid Products 2014/15
Auto enamel on wood
Deakin University Small Sculpture Award 2015
Deakin University Art gallery
9 June - 10 July 2015
see also Polaroid Project from 2014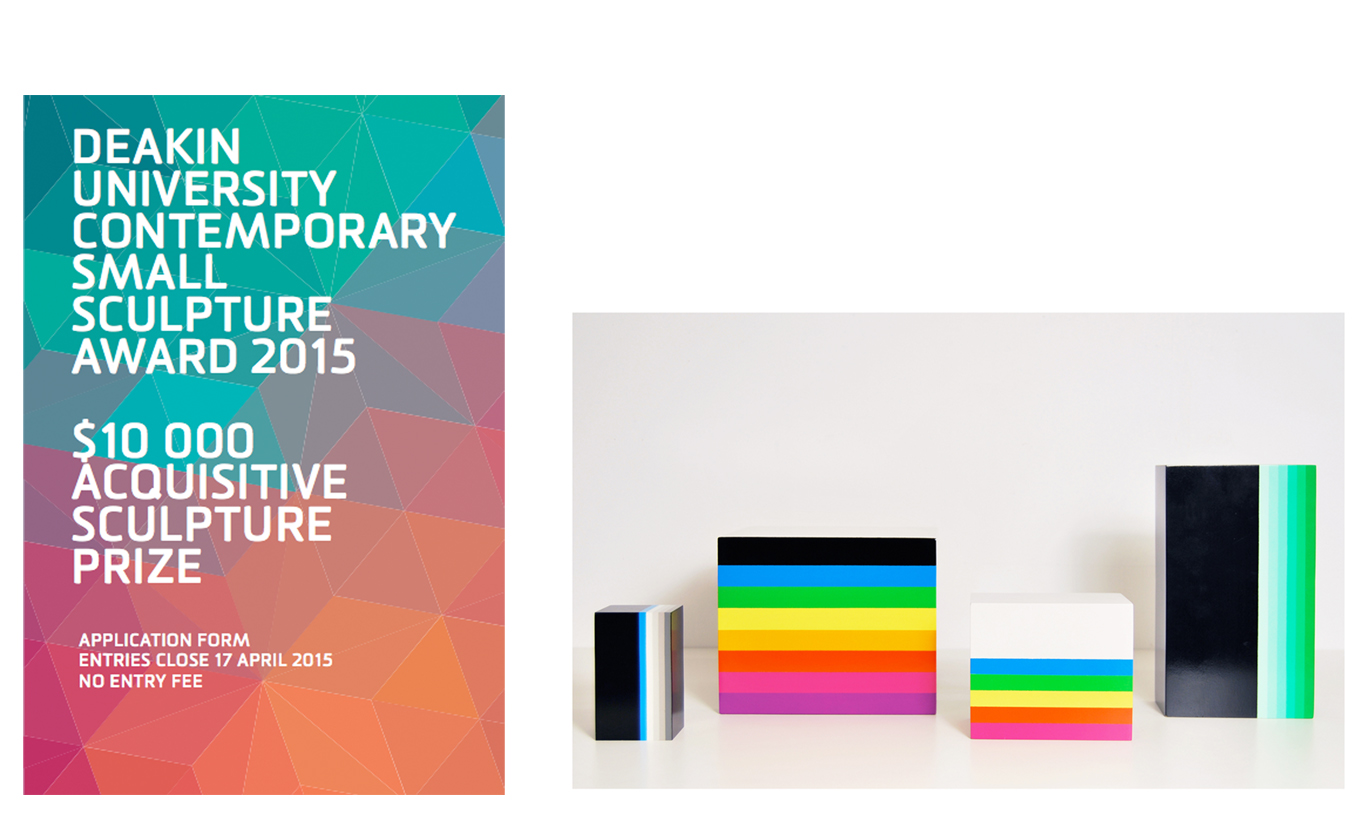 ---
NEWS 2015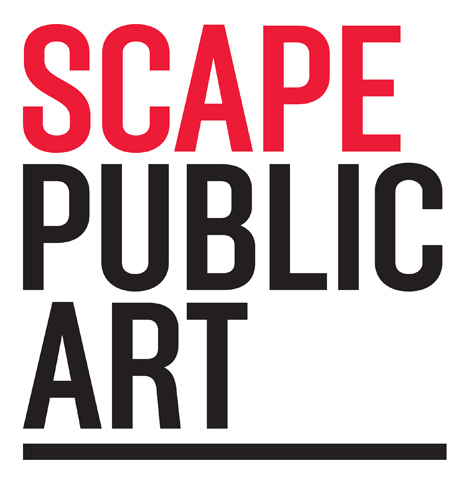 SCAPE 8: New Intimacies
Curated by Rob Garrett
New Zealand's premier biennial of art in public space.
In Christchurch between 3 October - 15 November 2015.
Participating Artists:
Peter Atkins
Antony Gormley
Fiona Jack
Hannah Kidd
Judy Millar
Nathan Pohio
Pauline Rhodes
The SCAPE 8 Public Art Christchurch Biennial is a contemporary art event which mixes new artworks with existing legacy pieces, an education programme, and a public programme of events. The SCAPE 8 artworks will be located around central Christchurch and linked via a public art walkway. All aspects of SCAPE 8 are free-to-view.The title for the 2015 Biennial – New Intimacies – comes from the idea that visually striking and emotionally engaging public art works can create new connections between people and places. Under the main theme of New Intimacies there are three other themes that artists will respond to: Sight-Lines, Inner Depths and Shared Strengths.
Site-Lines engages with the changed landscape of the city centre, with its new vistas opened up across city blocks, out to the Port Hills and beyond. Artists have been invited to consider how the city's new spatial character has the potential to stimulate fresh thinking.
Inner Depths recognises Christchurch as a water city; where liquefaction, flood and failed infrastructure mean that water has taken on a new significance. Through this theme, artists were invited to explore subterranean strata and water flows; as well as exploring underground water as a metaphor for the city's cultural layers and memories.
Shared Strengths recognises the resilience of people, and the power of helpfulness and self-organising communities to buoy the city through tough years. Several SCAPE 8 projects honour and celebrate the ongoing, everyday phenomenon of people helping each other.
The SCAPE Public Art Christchurch Biennial in 2015 is curated by New Zealand-born international curator Rob Garrett.
Rob Garrett is based in Poland, and has spent more than 35 years in the contemporary art sector, including curatorial experience in New Zealand, Poland, Italy, Sweden, France, Turkey, Germany and India. He recently curated Unearthing Delights, the 5th edition of Narracje - Installations and Interventions in Public Space, Gdańsk, Poland (November 2013). He is the initiator and curator of an ongoing international programme of emergent projects at Corner window gallery, a non-profit space on Auckland's Karangahape Road, New Zealand.
SCAPE8 website link
Biennale Foundation Link
---
NEWS 2015

Polaroid Project
Fleisher/Ollman Gallery
March 26th - May 30th 2015
1216 Arch Street - 5A
Philadelphia PA 19107
fleisherollman.com
Polaroid Project LINK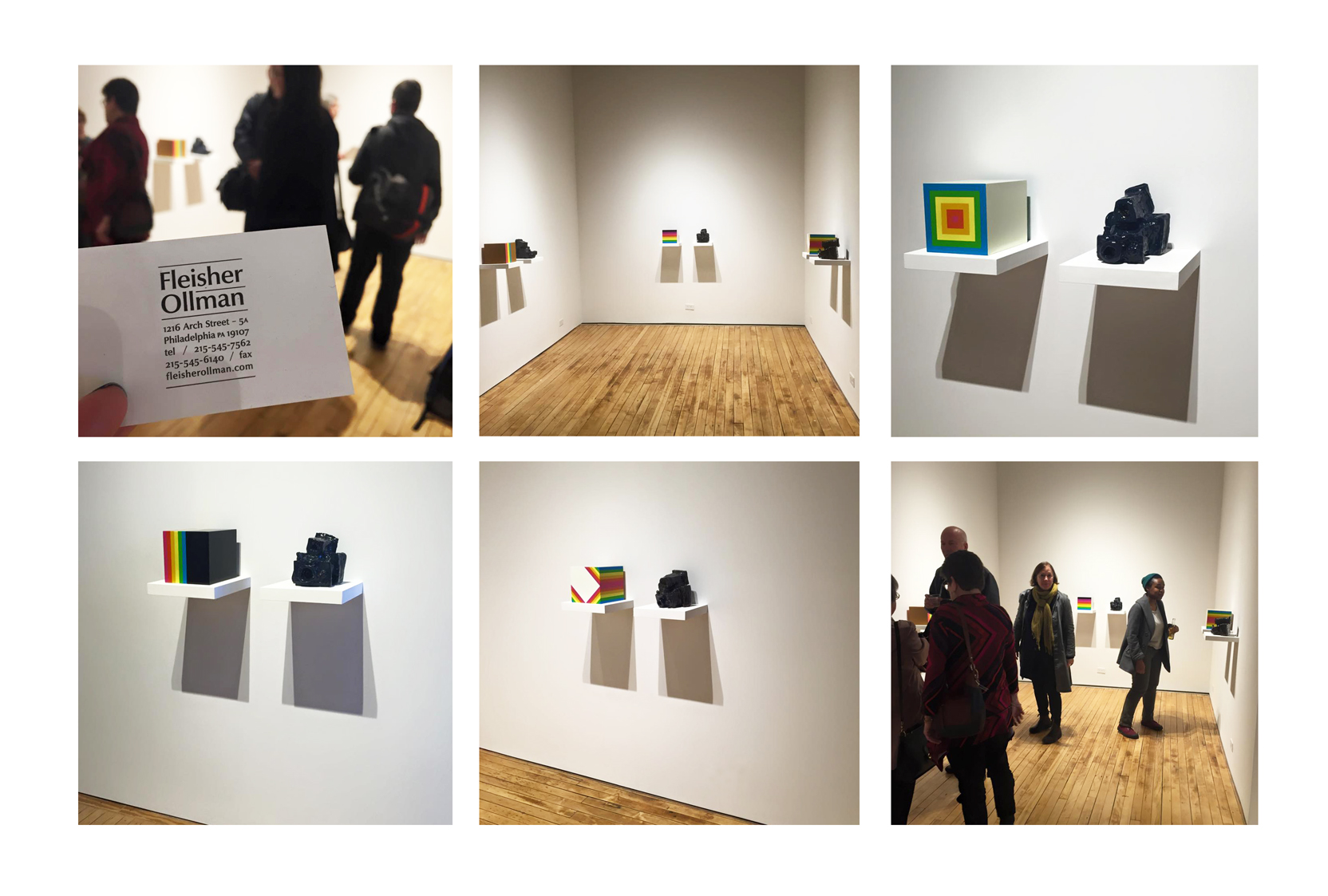 ---
NEWS 2015
Polaroid Project
The Armory N.Y.C.
Fleisher/Ollman Gallery
Pier 92 Booth 228
March 5 - 8, 2015
Fleisher/Ollman gallery from Philadelphia exhibited three works from my collaborative project with Alan Constable titled 'Polaroid Project' at this years Armory in New York City.
Thank you to Alex Baker, director of Fleisher/Ollman and Arts Project Australia for their continued support of this work.
Polaroid Project LINK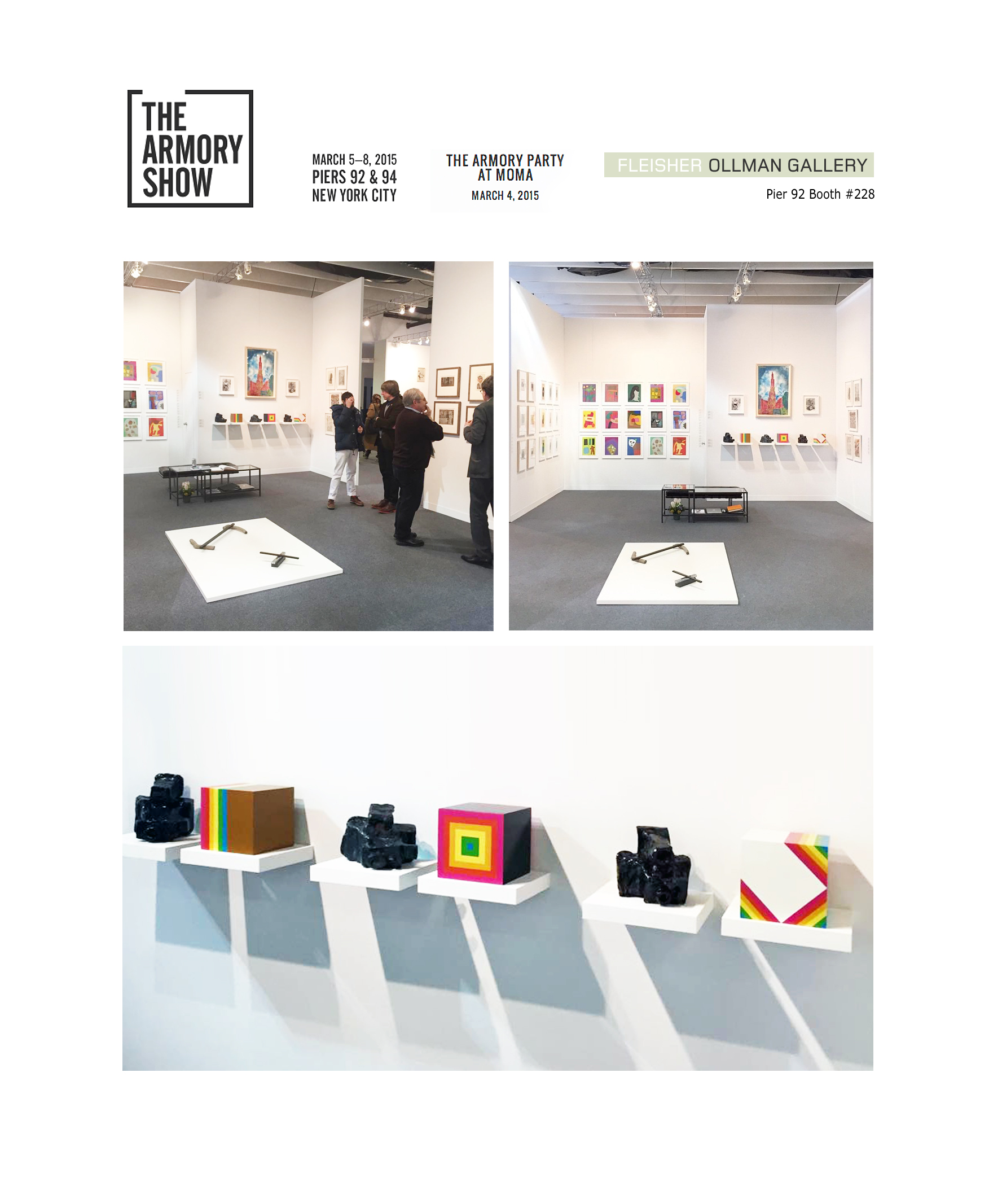 ---
NEWS 2015
Barcelona Forms
Collection of Museo de Arte Contemporaneo de Castilla y Lyon
Auto acrylic spray paint and gesso on paper
9 parts 19cm x 14cm each
1998 Barcelona
A set of works on paper from 'Barcelona Forms' have been acquired for the permanent collection of the Museo de Arte Contemporáneo de Castilla y León in Spain
The series "Barcelona Forms" from Australian artist Peter Atkins belong to what he calls "readymade abstraction": forms that are out there in our urban landscape, casual or incidentally, but totally overlooked. Insatiable voyager, Atkins loved making archives way before it became a trend in the art world. Each travel–from Calcutta to Barcelona to Los Angeles–enabled Atkins the possibility of exploring like an antrophologist everyday, insignificant and forgotten objects and forms which he picks up meticulously: from a toe separator to a tweezers or the handle of a coffee cup. Each city reveals his or her particular forms to him. Later on these elements are composed by the artist into forms more or less recognizable that hoover between abstraction and figuration. Prosaic elements that compose our urban landscape and which through Atkins' challenging and fascinating pictorial practice come to life again.

---
NEWS 2015
Feb 4 - Feb 21