work / THE PASSENGERS
The Passengers
Tolarno Galleries, Melbourne
March 23 - April 27

The Passengers is a new series of 36 small-scale paintings by Peter Atkins that relate to his successful Public Commission for Metro Tunnel titled RAILway, currently installed at City Square along Swanston Street, in Melbourne.
The Passengers explores our collective social, cultural and personal narratives through the abstracted, obsolete designs of suburban train tickets issued between 1920 and the late 1980s, Atkins distils and strips away unnecessary details, focusing instead on the exquisite forms underneath each ticket. What is revealed is an extremely evocative collection of abstracted forms and colours that represent a complicated and fascinating visual coded language, a railway vernacular, that is particular to inner Melbourne, outer Melbourne and greater Victoria.
The Passengers continue Atkins' interest in the appropriation and deconstruction of incidental, yet culturally loaded, readymade abstract elements from the real world. These incidental, almost nothing moments are amplified and recontextualised, celebrated as part of our collective social history. 'These are objects that have filtered through almost everyone's life at some point. I expect that when these works are viewed, people will be provoked into a very personal response, perhaps triggering narratives or memories of journeys undertaken with family and friends between particular destinations – perhaps to various sporting events, the Melbourne Show, the daily trip to school or to work, shopping in the city or weekends away with friends.'
Included in the series are ordinary commuter train tickets issued for travel between various suburban stations as well as specially printed tickets –including the one printed for the Papal visit in 1988. There are tickets specially printed for use by Scouts and Scoutmasters and for travel to Flemington, Sandown and Caulfield horse racing tracks, with destinations stating HILL, STAND, LAWN and PADDOCK. There are also tickets relating to VFL Park and other tickets printed for journeys to and from Calder Raceway. The final work in the series is based on the ticket issued for Puffing Billy. It seemed appropriate to end the series with such a quintessentially Melbourne icon. These tickets are like connectors, connecting us all through time and place, to locations, events, friends and family in and around our beautiful city of Melbourne.
'Atkins does not intend to exaggerate the importance of an object, sign or symbol, instead he sets out to invest it with a new or altered meaning, in the process divesting (although never denying) it of its heritage. Like David Lynch's cinematic vignettes of the small and banal, or Raymond Carvers vivid narrations of everyday feelings and occurrences. Atkins illuminates the extraordinary in the ordinary, quietly reassessing the familiar in order to endow it with the capacity for fresh understanding and renewed significance.' Felicity Fenner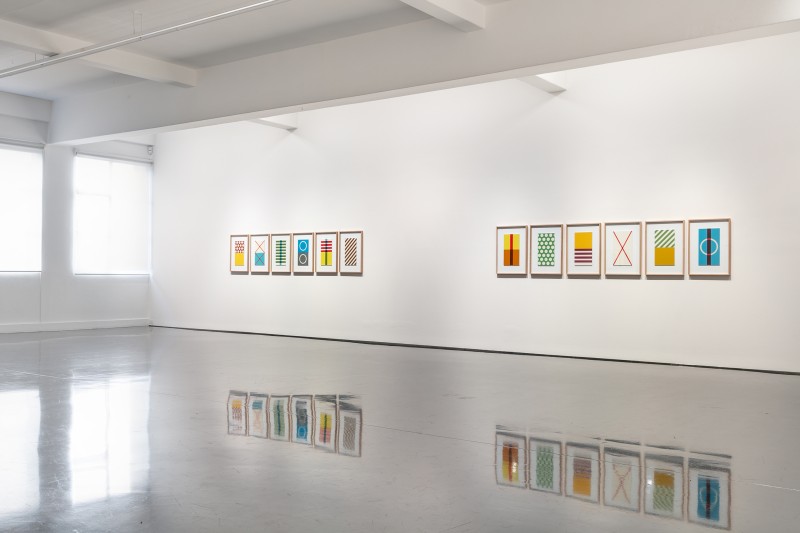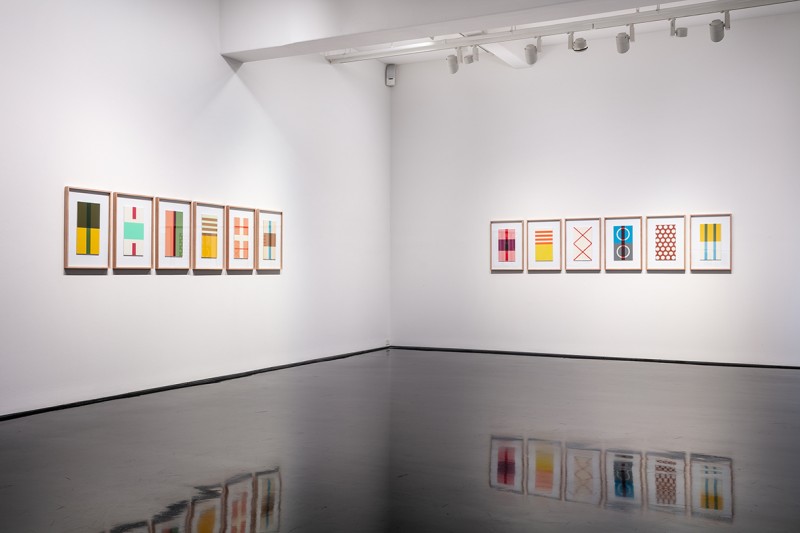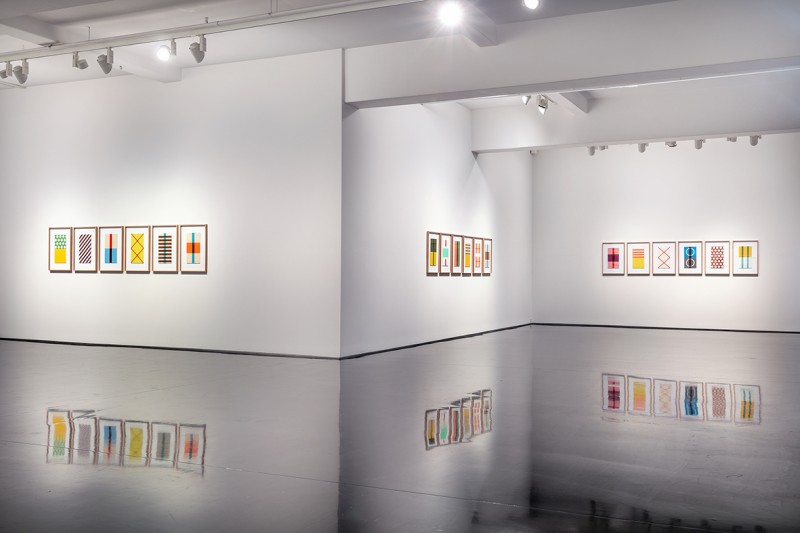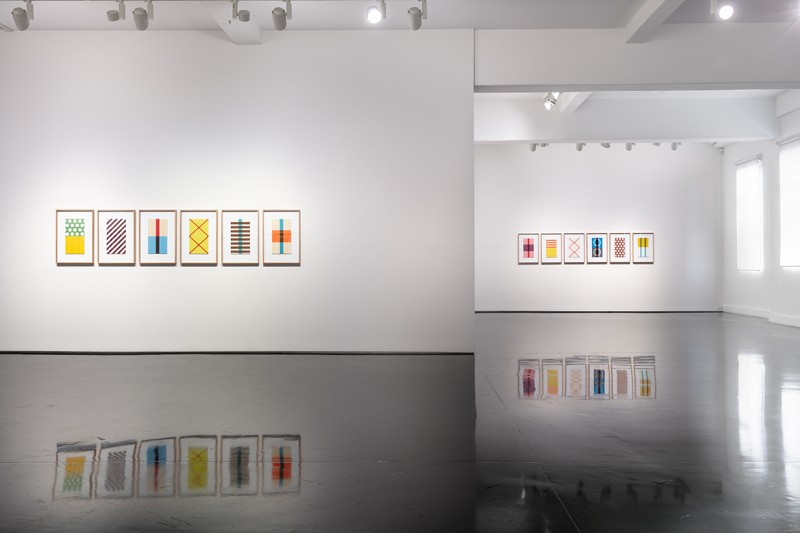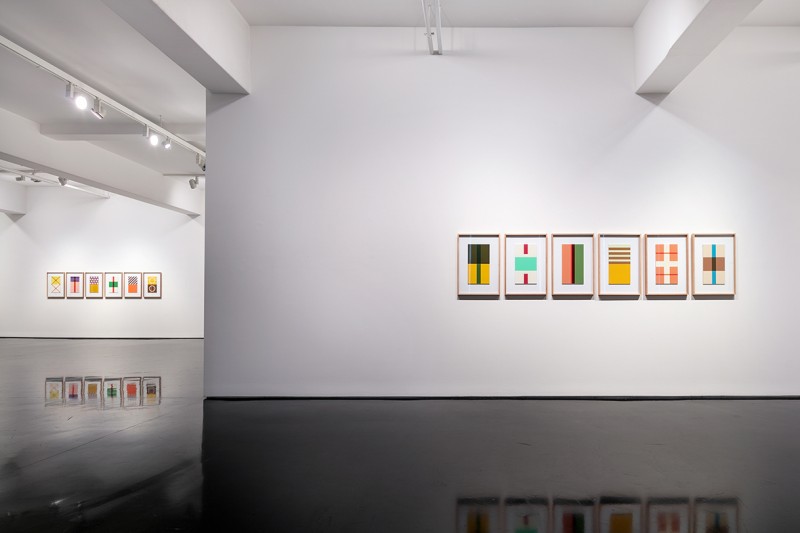 'The Passengers No 1'
Flemington R.C.
Bonbeach
Calder Raceway
Mildura
Ground
Sandown Park
'The Passengers No 2'
Papal Visit
Leger
Newport
Montague
Stand
Corio
'The Passengers No 3'
Watsonia
Mt Evelyn
Footscray
Balaklava
Hill (First Class)
Ballarat
'The Passengers No 4'
Gent
The Guineas
Trentham
Batman
Royal Show
Show Platform
'The Passengers No 5'
Hill (Second Class)
F.L. Park
Melbourne
Scoutmaster
Carnegie
Caulfield
'The Passengers No 6'
Geelong
Scout
Armadale
Koo-Wee-Rup
Paddock
Puffing Billy
Acrylic on Board 2018/19
22cm x 40cm each
42cm x 62cm framed size