work / OBSOLETE LOGOS (works on paper) 2015/16
2015
OBSOLETE LOGOS c1970s
Acrylic/Pencil/Pen on ledger paper
19 x 24 cm each
Obsolete Logos c1970s (works on paper) brings together several strands of interest that have come to dominate Atkins' recent practice as he continues to wade through the wash-up of Modernism. These interests include the appropriation of readymade abstract forms as well as the collecting, categorising and archiving of found, narrative - laden materials. Atkins is particularly drawn to material considered out-of-date or obsolete, visual languages that that have the capacity to resonate with us all.
The juxtaposed elements in Obsolete Logos c1970s appear as both visual and written records, gentle reminders of who we were and where we have come from. They could be interpreted as signposts from the past that lead us into the future - now.
An earlier work from Spanish Journal titled Balcony Form, produced by Atkins in Barcelona over the summer of 1998 utilises found sheets of ledger paper collected from a garbage bin in front of Antonin Gaudi's most emblematic masterpiece, Casa Batlo. Overlaid onto this material is a floating, painted version of one of the bone-like, pelvic shaped balconies from the iconic building. The juxtaposition of form, narrative and material could be seen as an early precursor to this new series of work.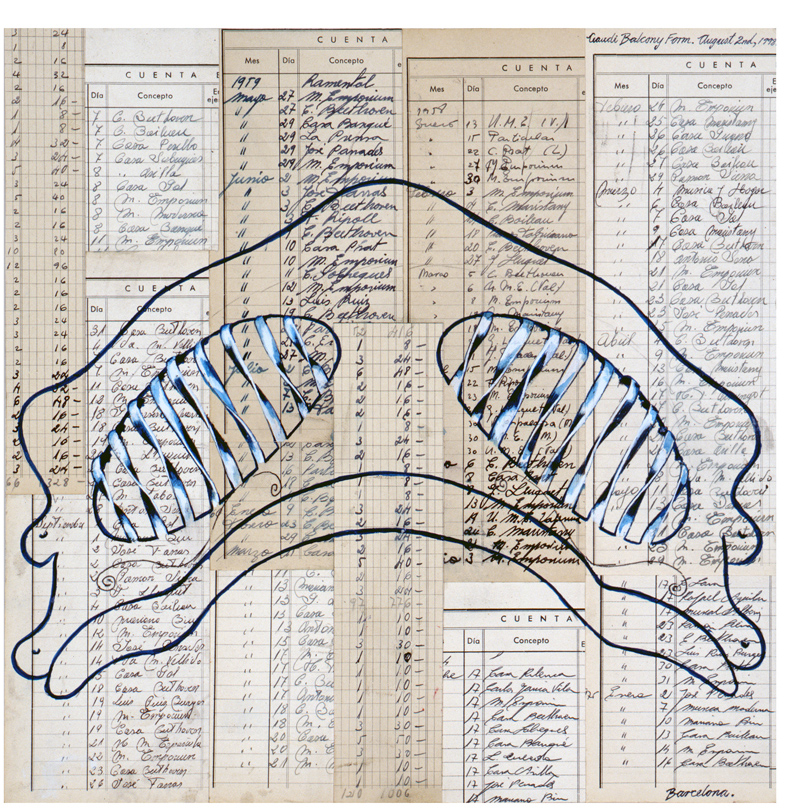 Gaudi Balcony Form. August 2nd 1998
Acrylic/Pen/Pencil on found ledger paper.
30 x 30cm (detail from Spanish Journal collection of the A.G.N.S.W)